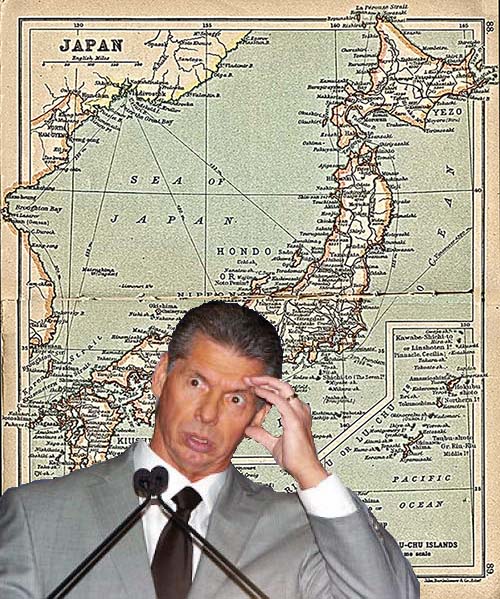 Stamford, CT – After many years of self-reflection and the strong efforts of his staff and family, WWE CEO Vince McMahon is finally coming around to the idea of Japan.
McMahon, whose strength is not in geography, had been unable to grasp that concept that Japan was, in fact, a real country with it's own language and culture. Thanks to the signing of NXT star Hideo Itami and the appearance of legendary Japanese wrestler Jushin "Thunder" Liger at the upcoming NXT Takeover, WWE COO Triple H was finally able to break through to McMahon.
"Itami and Liger are really going to help the WWE reach a brand new fan demographic in Japan," Triple H said.
"Sorry, you lost me there, Hunter," said Vince. "What's that last word mean? Is that some sort of hip word Millenials use?"
"What?" said a confused Triple H. "No. Japan. You know, the country."
McMahon furrowed his brow in confusion.
"Come on, Vince. Japan!" exclaimed Triple H. "The country in Asia. Right near China. Land of the Rising Sun. Godzilla, sumos, that sort of thing!"
"Oh, you mean the Orient." said McMahon. "Yes, it would be good to find a passage on the Silk Road. From there, we could also make connections in Siam, Ceylon, Prussia, and eventually Yugoslavia."
"No, no no," cringed Triple H. "Vince, we don't use that term anymore. It's antiquated and improper. We're a publicly traded company now. We can't be using terms that may upset our fans and stockholders! They're from Japan."
"Jah-pan?" said Vince, struggling with the word.
After several hours and with the aid of a globe, multiple maps, and a Where's Waldo book, Vince McMahon finally began to accept the fact that Japan exists.
Unfortunately, now all wrestlers in developmental are listed as being from Japan, Massachussetts.