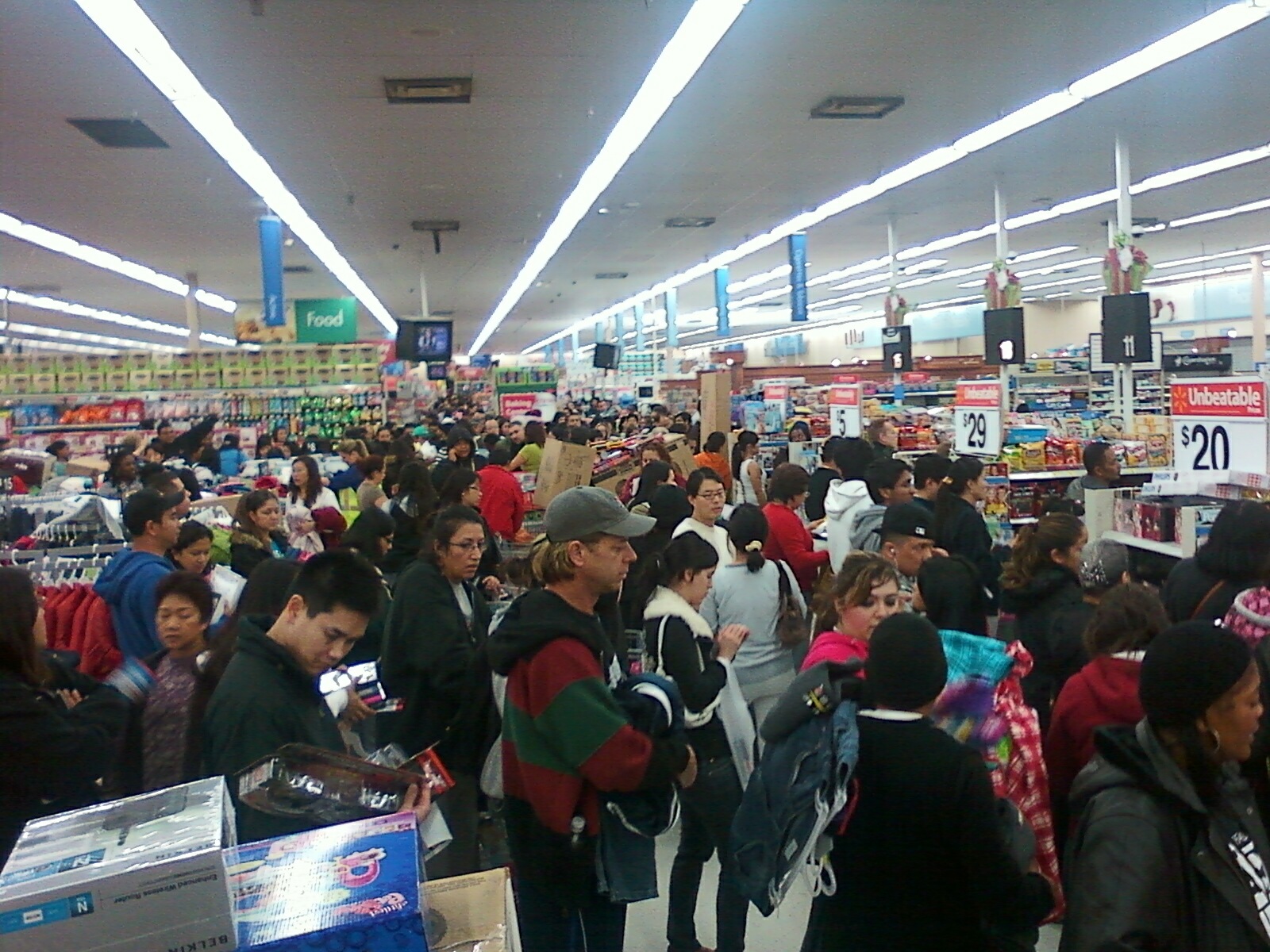 White Plains, NY – At 4:45am on Friday morning, a stretch limo with the license plate "V1NNY MAC" pulled up to the White Plains Walmart. WWE Chairman Vince McMahon emerged from the limo into the chilly morning air with his wife, former 2-time Republican candidate for U.S. Senate, Linda.
"I don't understand why we're here," grumbled a cranky Vince. "We own a billion-dollar corporation. Why do we have to be out here with these common folk? I might get poor on me."
"Vince, you just can't beat a good deal," said Linda robotically.
As the couple made their way to the front doors, a man shouted "Hey, back of the line, cutter!"
Vince turned to the man and shouted, "Do you know who the hell I am?! I'm Vince McMahon, Chairman and CEO of World Wrestling Entertainment and billionaire tyrant! I can go wherever I want!"
"Oh yeah?" said the man incredulously. "I'm Ty Dawkins, construction worker for Yonkers Contracting and local union rep for I.W.W. #364. I've been waiting in line since 1 am. Back of the line, Pops!"
Linda grabbed Vince's arm and dragged him to the back of the line where they waited patiently until they finally reached the front of the store at 5:28am.
The Walmart was a scene of utter pandemonium as Linda gently stepped over a fallen shopper while retrieving a shopping cart while Vince kicked and stomped several shoppers who invaded his personal space. Linda calmly took out her list and slowly made her way through the aisles.
"Ooh," said Linda with all the emotion of a wet carrot. "How about this DVD player for Shane's room? It's only $19.99."
"Linda, I keep telling you: Shane is forty-three years old and no longer lives at home," said Vince sternly. "Besides, we own and operate WWE Studios. We make our own movies, for crying out loud!"
"Well, then Shane will have something to watch on his new DVD player when he comes to visit," said Linda matter-of-factly.
The McMahons continued shopping, picking up several pairs of sweatpants, a Rachel Ray 15-piece cookware set, an Alvin & The Chipmunks Blu-Ray, and a collage frame. Linda decided to check out the Home and Garden section while Vince wandered over to the Toys section. To his surprise, he found several rows of Miz action figures untouched.
"Stupid kids," thought Vince.
With their shopping complete, Linda and Vince stood in the check-out line for over an hour. When they finally reached the counter, Linda stopped Vince from unloading the cart.
"Wait! We have to get out of line. I have to go back and get a box of Melba Toast," said Linda.
"That's it! I'm walking out of here!" yelled Vince.
"Calm down, dear. You'll hurt yourself," said Linda flatly as she left the line in search of her dry slices of toast.
Vince took one step before tearing both of his quads, collapsing in a heap of agony. He was then trampled by a herd of frantic shoppers and wrestling fans that were unhappy with the build to Survivor Series.