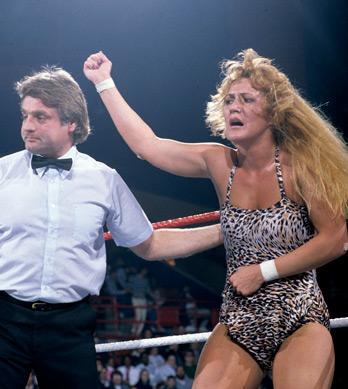 Vancouver, Canada – In a tearful reunion, former WWF female wrestler Velvet McIntyre reunited with her long-lost son, current WWE Superstar Drew McIntyre.
Velvet is best known for wrestling barefoot (despite not being Samoan) and executing high-flying maneuvers in the WWF during the early 80's. During a 1984 tour of Scotland with the WWF, Velvet had a brief affair with a man from the town of Ayr, and nine months later gave birth to a little boy named Drew. Due to her busy schedule of constantly losing to The Fabulous Moolah and Sherri Martel, Velvet was forced to leave her son behind. As the years passed, the two lost touch and Velvet has been spending the better part of the past twenty years trying to find her long-lost son.
"It was the 80's. If you remember it, you weren't really there," said a shoeless Velvet, sporting leopard-print tights. "I was living the high life, traveling the world and partying all night with the stars, like Bronson Pinchot and Alan Thicke. I couldn't be the mother that Drew needed and broke my heart to lose contact with him."
"I did everything I could to find him," said Velvet. Private investigators, Google searches. I even employed the help of my friend The Jumping Bomb Angels when someone said Drew was in Japan. It wasn't until I got a tip that he was wrestling in the WWE that I knew I was getting close. I watched a bunch of Raws and Smackdowns, but would never see him. I had almost lost hope until I saw him and his Three Man Band."
Velvet reached out to her old employer and a mother-son reunion was planned. The emotional meeting was captured by WWE cameras for their latest show on the E! Network, "Wrestling Reunion". "I've been dreaming of this moments for a long time," said Drew. "From now on, I'm wrestling barefoot to honor my mom. Also, losing a lot of matches."
Velvet McIntyre has also been trying to track down her long-lost daughter, also named Velvet. "I heard she was wrestling in TNA, but I just can't bring myself to watch it for more than a few seconds. If anyone can withstand the two hours of Impact and sees her, please let me know.