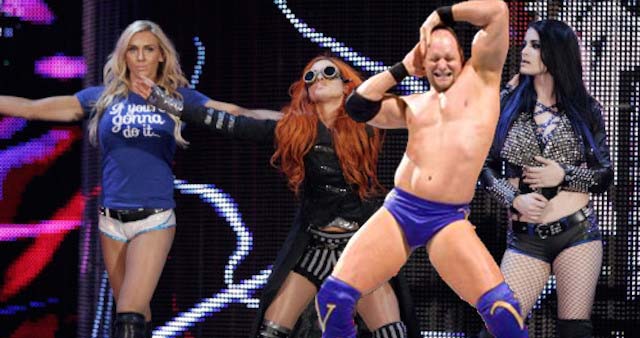 Las Vegas, NV – WWE officials announced today that they have rehired Attitude Era star Val Venis to manage the Submission Sorority.
Venis joined WWE Divas Charlotte, Paige, and Becky Lynch, whose faction name was recently revealed to also belong to a pornographic website, at a press conference before Raw.
"Heeeelllllllooooooo, Divas! " said Venis, wearing only a towel. "I wasn't included in Wrestlemania XXX, but once I heard about the Submission Sorority, I knew the WWE was about to get a big shot of the Big Valbowlski!"
The Divas shared angry glances with each other as Venis continued.
"I'll be handling these delicious Divas all night long!" exclaimed a particularly sweaty Venis. "I'm going to show Becky my emerald isle. Charlotte is going to see my Figure Eight inches, and Paige? I'll show her my royal jewels! Heh heh heh!"
The three women showed their displeasure with exasperated sighs and eyerolls.
"Once the sexy Submission Sorority are done with the Bellas and B.A.D., these three are going to put me in some submissions moves, if you know what I mean. They're going to take my dough and twist it up into a pretzel if you catch my drift," gushed Venis as he thrusted his pelvis.
Paige nodded at Charlotte and Becky who then proceeded to grab Venis from behind.
"Whoooa-ho-ho, ladies! Not here! Let's wait until we get to the 'performance center' at the hotel!" said Venis.
The divas proceeded to pull and twist Venis' arms and legs in painful positions.
"I..ow…think that…ow…this is the…owowow…is the begin…ow…ing of a beaut…owowowowowow…iful friendship!" said Venis, clearly in a lot of pain.