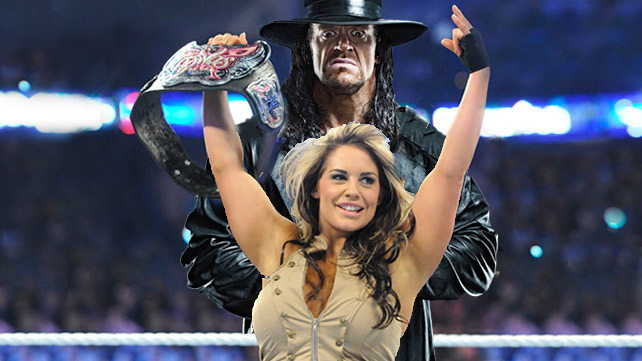 Indianapolis, IN – Returning WWE superstar The Undertaker shocked the world this past Monday by challenging Kaitlyn for the Divas title at Wrestlemania. Many believed it was a forgone conclusion that Undertaker would take on CM Punk, but the Dead Man insisted on fighting for the woman's championship.
"It's a matter of personal pride," said Undertaker. "I've won the WWE, World Heavyweight, Hardcore and Tag Team championships. I have a 20-0 win streak at Wrestlemania. I've had feuds with some of the greatest wrestlers ever. Hell in a Cell, Buried Alive, Casket, and Inferno matches. I've won the Royal Rumble and a Slammy award for Best Tattoo. I should be on top of the world, but something has been bothering me. It's been gnawing at my soul for years." The normally stoic wrestler from Death Valley paused, staring off into the distance for a few moments before taking a deep breath and composing himself. "One loss. One giant loss early in my career that haunts me to this day. I'll never forget the one person who could humble the great Undertaker: Lisa The Adjuster."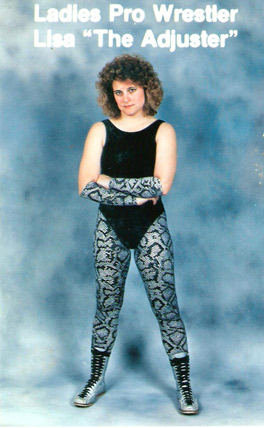 Lisa "The Adjuster" Haynes was an independent wrestler during the 1980's and faced off against the Undertaker in one of his first matches. "Before he was Undertaker or 'Mean' Mark Callous or even Texas Red, he went by the name 'Pippi Longstocking'," said Haynes. "His long red hair was in cute little braids and he used to prance around the ring, tossing flowers to the crowd. I clearly had to humble him and show him the ropes." Haynes, who was trained by WWE star Luna Vachon and Killer Kowalski, stretched Undertaker for several agonizing minutes, slapped him around and pulled on his pigtails, before pinning him for a three count. The embarrassing loss stuck with Undertaker and shaped his Hall of Fame career.
Divas champion Kaitlyn expressed shock at Undertaker's challenge. "Oh my God! He knows my name!" exclaimed Kaitlyn.
Asked if she would be attending Wrestlemania, Haynes said, "I retired a few years ago, settled down with my husband Roy aka 'Cheapest Man In America' and started Save Our Strays (http://www.saveourstraysvt.org/) to help out stray animals, but I think I can make some time to see Pippi again. I'll be in Kaitlyn's corner, cheering her on and giving her some pointers."
"I still have that one mountain to climb. I need that Divas title," said a glassy-eyed Undertaker. Referencing his wife, former WWE Diva Michelle McCool, Undertaker said, "Michelle won it twice and has been lording it over me ever since."
Informed that Lisa "The Adjuster" Haynes would be in Kaitlyn's corner at Wrestlemania, Undertaker grew silent and bowed his head. A small streak of mascara ran down his face as he slowly began to braid his hair. Undertaker sighed and said, "Michelle is never going to let me hear the end of this."