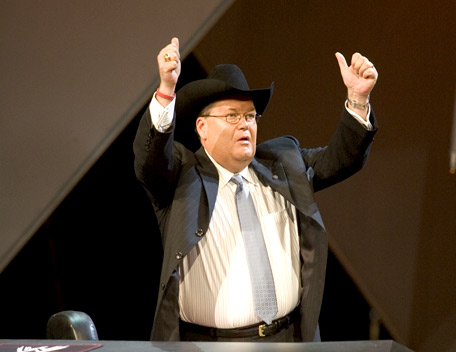 Norman, OK – Internet personality Jim Ross announced Wednesday that, after a long and extensive run in the business of tweeting, he will be retiring from Twitter, effective immediately.
Ross, 61, has become known among the younger generation as an ardent user of the social media site Twitter. Ross, known to fans as, "Good Ol' JR", mostly for the folksy way he would type his 140-character-or-less messages, will be focusing more on his line of condiments, which were often promoted on his Twitter feed.
"Frankly, it was getting to be too much," said Ross to WrestleCrap in a phone interview. "The unabashed ignorance of some people was a huge drain on my motor, and I don't feel I could go on at full capacity."
"So even though I do enjoy talking about barbecue sauce, football, and tailgating with barbecue sauce at football games with smart, well-mannered folks, the negative simply outweighed the positive on Twitter."
Ross, who exploded into public view after he began tweeting his thoughts in 2009, will leave a large void on the feeds of over 900,000 followers.
Although his social aptitude is what he'll be most remembered by among today's youth, a few folks may know him from his bi-annual appearances on World Wrestling Entertainment programming, in which he played the comic patsy to many a villainous character, without ever once getting retribution.
"It was nice of the company to let me appear once in a while," the sauce magnate mused. "Twice a year is more than most folks get. I suppose Vince (McMahon) thought nobody could play a punchable buffoon quite like me!"
Ross went on to state he might still tweet on a bi-annual basis, just as long as WWE announcer Michael Cole doesn't feel upstaged.
"He's a more photogenic storyteller than I; who am I to disrupt the pecking order?"