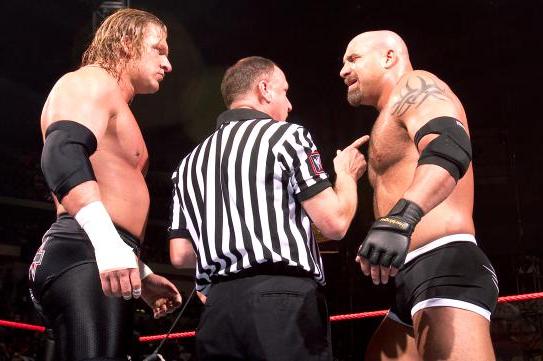 TORONTO – Irate over how easily the near-fifty-year-old Bill Goldberg mowed down relentless killing machine Brock Lesnar at the Survivor Series pay-per-view, WWE Chief Operating Officer Triple H is calling out the former WCW World Heavyweight Champion.
"This has happened before," seethed Triple H in an exclusive interview. "Some WCW has-been that has spent the previous decade-plus in seclusion emerges from his hiding place and embarrasses WWE on its own soil. Clearly, his pummeling of Brock at the Survivor Series is his cry for attention, because he wants to punish me for the way I single-handedly destroyed WCW fifteen years ago."
Triple H refers, of course, to Sting's long-awaited first appearance on WWE television in the fall of 2014, which led to Sting putting over a wrestler ten years younger than himself in Triple H at WrestleMania 31. The WWE COO believes history is repeating itself, and that only he can put a stop to this purported act of belated vengeance.
"Look, Lesnar destroys everybody he faces," notes Triple H. "He's easily crushed the likes of Dean Ambrose and Randy Orton and John Cena and Sheamus and Alberto Del Rio, whereas I beat Lesnar at WrestleMania a few years back. He would've tapped to the kimono armbar or whatever it is that I put on him if I'd actually applied full pressure. Since I'm the only WWE superstar that Lesnar can't destroy, I'm obviously a man that can take Goldberg and his bull-headed selfishness down a peg."
Triple H was then asked what the company would have to gain by him pummeling gray-bearded Goldberg in front of the largest pay-per-view audience that WWE could muster, and his answer made sense to the stockholders.
"I'm younger than Goldberg by a few years; it's about time Goldberg lays down for the younger talents, the ones who'll still be around tomorrow."