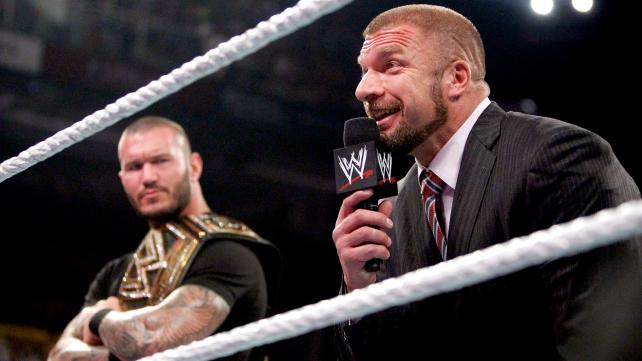 Hollywood, CA – Following his stirring rendition of "When You Wish Upon A Star" from the classic "Pinocchio" WWE has decided to release an entire album of Triple H singing Disney songs.
"I was just feeling it on Raw, you know?" said Triple H inside the recording studio. "Sometimes when you can't find the correct words to say, you just have to sing it. Whether it's my wife Stephanie or my life partner Shawn, everyone has been telling me that I have a beautiful voice. Judging the crowd's reaction, I'd have to agree. I've conquered their minds, now it's time to conquer their hearts."
The album, tentatively titled "Trilling With Triple H" will include many childhood favorites sung by the Cerebral Assassin. "These are some of my personal favorites. I'll be doing 'Under The Sea' from Little Mermaid, 'A Spoonful of Sugar' from Mary Poppins and 'Some Day My Prince Will Come' from Snow White and the Seven Dwarves. I'm most excited about 'I Just Can't Wait To Be King' from the Lion King. That one just speaks to me."
WWE has decided to throw their weight behind the musical endeavor, resurrecting the defunct SmackDown! Records label. Some may remember the label as the former home of such bands as Neurotica and…well that's it.
"The record label thing didn't work out in the early 2000's," said Vince McMahon. "But the music industry is stronger than ever! That's why we're proud to be putting out Hunter's album in various formats including digital, cd, vinyl, 8-track, and 45's. We're also planning on releasing a few more albums, including "Neutral Coast:Antonio Cesaro Yodels Your Favorite Gangster Rap Songs" and the spoken-word album "Please Just Fire Me: Zack Ryder Begs For 40 Minutes To Be Released From His Contract".