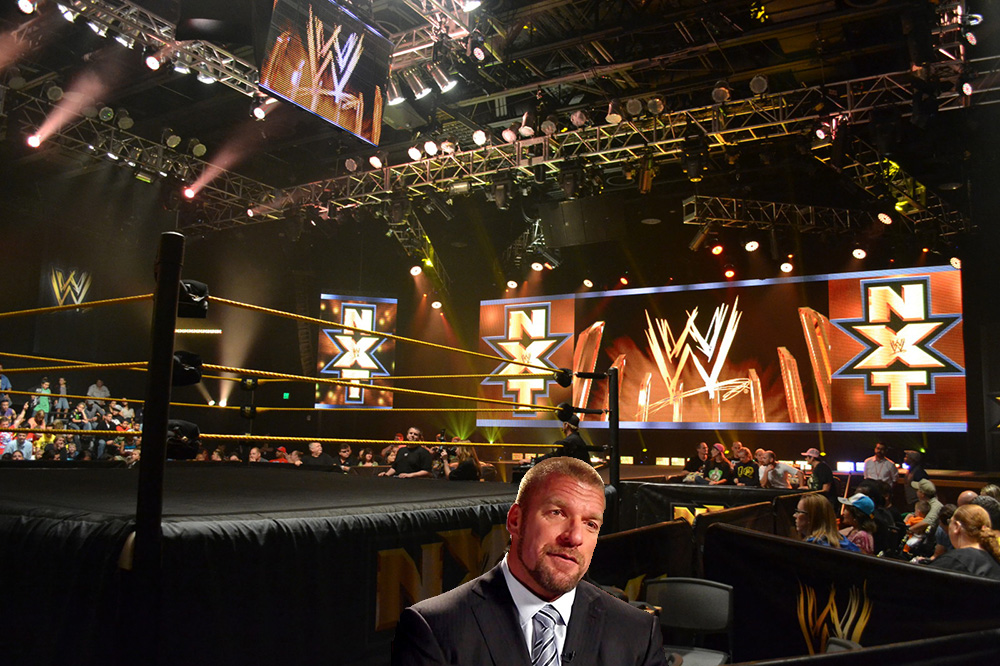 Winter Park, FL – From his executive office at the NXT Arena at Full Sail University, WWE COO Triple H has promised to stop listening to the NXT live crowd.
"I couldn't help it," said a frustrated Triple H. "They just have so much energy and they love everything. All those chants and dancing. Everyone is a star down there! Unfortunately, I've come to find out the hard way that it doesn't always translate to the main WWE crowd."
Triple H's musings are in reference to several wrestlers called up to the main roster who shined in NXT, but have flopped in varying degrees after being called up to the main roster.
"Remember when Adam Rose premiered at NXT?" reminisced Triple H. "The crowd went nuts. The chants of 'That was awesome' was intoxicating. Now his entrance goes off like an X-Pac fart in church. It seemed like a sure thing! Same thing with Paige's current run. It's like the average fan doesn't watch every episode of NXT. Xavier Woods? Meh. Big E? Tepid. Bo Dallas? Geek salad with nerd dressing on the side. Don't even get me started on Emma. I thought they'd all make a big splash."
"I just trust people too much. I mean, just because Guy With Neckbeard In a Drew Gulak Shirt yells 'Sawft!' during an Enzo Amore promo doesn't mean he'll be a star. I should have known better than trusting Southern Granny With Jiggly Bingo-Arms just because she sways along during Bailey's entrance. I've really had to resist the urge to call up The Ascension. I just love when the crowd chants 'Yah!' during their matches. It's just so creative, but I'll just have to assume that not everyone will do it. Breaks my heart really."
"I just have to man-up and ignore them because, really, it's their fault," said Triple H as he gazed at a monitor showing the latest NXT taping.
"It's what's best for business…because…business…is…um…" said Triple H as he stared at a monitor showing the latest NXT taping. His voice began trailing off as chants of "Bull!" rang throughout the arena during the entrance of Bull Dempsey.
"Hmmm. Bull Dempsey? Yeah…yeah! The people love him!" exclaimed Triple H. "I think we could inject him directly into the Intercontinental title chase. That'll give us enough time to build towards the Wrestlemania main…wait! No! No no no no no no! Stop it!" Triple H screamed at his monitor before covering his ears and shouting "Lalalalalalalala I am not listening lalalalalalala!"