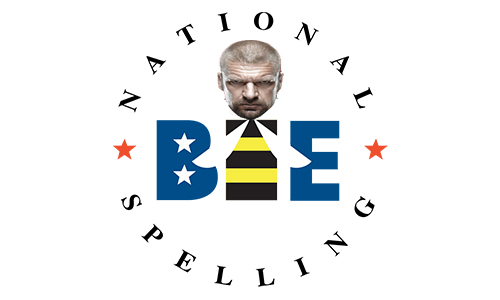 Washington, DC – This past weekend's National Spelling Bee had a shocking finish when WWE COO and former champion Triple H interfered, costing little Emily Cohen the championship.
After several intense hours of spelling, the competition had whittled down to the final two: 12 year-old Emily Cohen from Toms River, New Jersey and 11 year-old Reyansh Sachdeva of Boston, Massachusetts. After visibly struggling through the word "pneumatomachy" Reyansh could be seen looking intensely towards the back of the room.
Emily approached to the microphone to spell the word "rhinolophid" when out of nowhere, Triple H's theme music began to play over the auditorium's speakers. The distraction caused Emily to misspell the word, giving Reyansh a chance to claim victory.
Triple H ran down the auditorium's stairs, grabbed one of the judges, and delivered a devastating Pedigree. Amidst all the chaos and confusion, Triple H then slid a dictionary to Reyansh, who easily spelled the word and claimed victory. As confetti fell from the ceiling, Triple H triumphantly raised Reyansh's hand.
After the celebration, Triple H said, "Reyansh is what's best for business. He's exactly the type of champion the National Spelling Bee needs. I just made sure it happened. He's going to make an incredible champion because he's a winner. Just like Kevin Owens."
Triple H was last seen slipping blue cheese to an unnamed woman at an atomic wing eating contest.