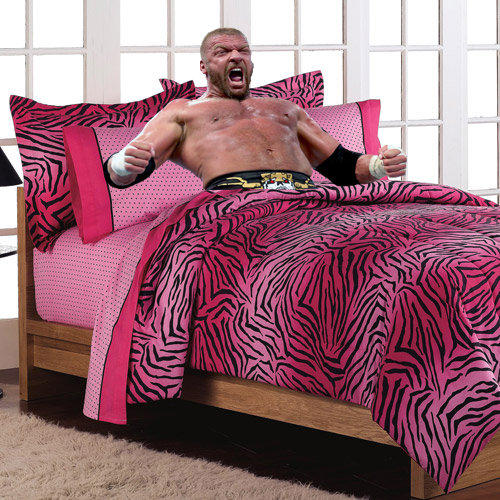 Greenwich, CT – WWE Superstar and COO Triple H has been awake for hours, unable to sleep due to his excitement over totally ruining up-and-coming wrestler Bray Wyatt.
Bray Wyatt and the Wyatt Family have been appearing in vignettes for the past few weeks on WWE television to rave reviews from fans and those in the business. Seeing the positive buzz for the new group, Triple H has decided to take it upon himself to not only sabotage their debut, but their entire opening run.
Laying in bed, Triple H stared up at the ceiling, a large smile spread across his face. "Oh, boy! I can't wait for the Wyatts to make their debut," said a giddy Triple H, kicking his legs underneath his pink zebra-print sheets. "Everyone wants the WWE to get new blood and when we finally give it to them, I'm going to squash the heck out of their hopes and dreams!"
Various scenarios about how to screw-up Bray Wyatt ran through Triple H's mind. "It should be pretty easy. I already killed Curtis Axel's push. I could have made him in one night. Instead, I made the main event all about me. Maybe I'll call Bray fat. Or how about he's sexually attracted to a turnbuckle. Oh! Oh! I'll take on all three Wyatts in a handicap match and beat them in under a minute! That'd be perfect!" squealed Triple H.
Awakened by Triple H's kicks of delight, a beauty mask-covered Stephanie McMahon shouted, "Paul! It's 3:30 in the morning! I have to get up at 7 to tell the nanny how to raise our children!"
Triple H quickly shut off the light, cuddled his sledgehammer and whispered, "Soon, Bray. Soon."