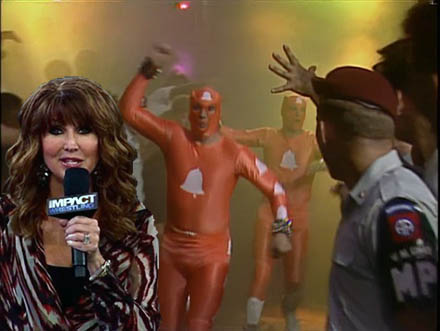 Belleville, USA – TNA Impact Wrestling announced this past Thursday that they have signed WCW tag team legends The Ding Dongs to a multi-year contract.
Despite the announcement that Spike TV will not be renewing their television deal, TNA has been forging ahead signing several wrestlers, including Zema Ion and Army veteran Chris Melendez.
"TNA needs a real wake-up call. Or more like a wake-up bell," said a smiling Dixie Carter to a roomful of stone-faced reporters. "The Ding Dongs have a lot to bring to TNA. They've got the experience, the skills, the, uh, ding and dong. They've got that certain 'je ne sai quoi' if you know what I mean. I won't lie, whenever I'm feeling blue, I pop in my Clash Of The Champions 7 VHS and giggle my head off every time I see the Ding Dongs match. Yay bells!"
"Now, I admit, TNA has had some growing pains," said Carter. "There have been some missteps along the way: The 'Always Evolve' Jeff Hardy Fitness App, having the Nasty Boys wrestle, barbed-wire Christmas trees, bringing Chyna in, letting AJ Styles go, Chris Sabin as champion, Andrew "The Punisher" Martin, Hulk Hogan and his magic ring, whatever the heck we were doing with Orlando Jordan, changing the night Impact airs multiple times, and giving Scott Steiner a microphone. But those days are behind us!
"Ring," said Ding Dong #2
"Ring ring ring ringringringringring," said Ding Dong #1
"TNA is about to get a huge dose of Dong!" said a giddy Dixie Carter.