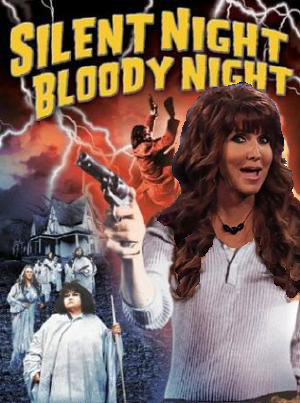 Nashville, TN – On the heels of the King Of The Mountain match returning at Slammiversary, TNA officials have decided to also resurrect the "Silent Night, Bloody Night" match.
Often labeled one of the worst gimmick matches in wrestling history, TNA's lone "Silent Night, Bloody Night" match occurred in at a 2007 Christ Eve edition edition of Impact. The match, technically a 4-way between Abyss, Shark Boy, Rellik (that's "Killer" spelled backwards) and Black Reign, contained weapons wrapped like presents, glass, and a barbed-wire Christmas tree.
"This upcoming Slammiversary is going to be one you'll never forget," said TNA president Dixie Carter at a press conference. Flanked by Executive Vice President John Gaburik, Josh Matthews, and a cardboard cut-out of Jeff Hardy, Carter continued, "We're going back to the good old days of TNA, 2007, with the return of the 'Silent Night, Bloody Night' match. We're going to have Abyss take on Crazy Steve, Tyrus, and making his TNA return, Rellik (that's 'Killer' spelled backwards)! Ooooh, it's going to be spooky, ya'll!"
When asked why they were bringing back the Christmas-themed match now, Carter responded, "Well, sugar, it's almost Christmas in July time. Shucks, doesn't every body know that?"
The crowd of reporters murmured amongst themselves.
"Oh, c'mon, you know Christmas in July," said Carter. "That's when Summer Santa, who looks just like my daddy, gives you whatever your itty bitty heart wants as long as you're a good girl. Instead of cookies and milk, you leave out a plate of ribs, a pitcher of Arnold Palmer, and a bottle of Jim Beam. And instead of coming down the chimney, he just wanders into the family room late at night. One year, I got a pony for Christmas in July. Another year, I got Kurt Angle to sign a contract for life with TNA. Didn't ya'll have that growing up?"
John Gaburick quickly whispered something in Dixie's ear.
"What? Not real?" said Carter, his eyes beginning to well-up with tears.
"Uhhh, what he means is that this Christmas in July will be totally unreal! Great thinking, boss!" said Josh Matthews.
Relieved, Carter said, "Phew! Ya'll scared me for a second. I just know that once Summer Santa sees the return of 'Silent Night, Bloody Night' he's going to give us a whole new TV contract, lots of merchandise sales, and a brand new 16-sided ring!"