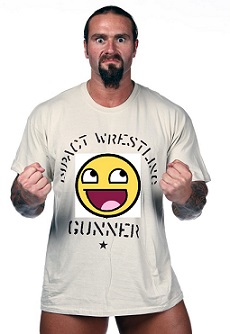 Orlando, FL – At the most recent taping of Impact, TNA debuted the newly repackaged version of Gunner in grand fashion.
Following a backstage skit involving ODB grabbing her unmentionables for some reason, the TNA crew came out onto the ramp and set up a small milk crate and a microphone stand. Katrina & The Waves "Walking On Sunshine" blared over the loudspeakers as a smiling Gunner skipped out of the back, waving to the crowd and repeatedly giving the thumbs-up. Sporting his new "Smiley Face" t-shirt, Gunner stood on the milk crate and said, "I'm happy to report that I've got some good news! Bananas are a good source of potassium and are relatively cheap!"
The new gimmick is a big departure for 4-year veteran of TNA and ROH alumni. Gunner, who previously wrestled under the name "Phil Shatter" was better known in TNA as "the guy who isn't Murphy" and "the guy standing next to James Storm". In recent weeks, Gunner's real-life status as an Iraq War veteran began to come out in storyline, but was quickly dropped.
"No one cares about that stuff," said Dixie Carter. "War is all sad and junk. We're a big family here at TNA and we want to project a family environment. The recent Mr. Anderson/Bully Ray feud is proof of that. So I thought to myself, 'Dixie, we need to brighten this place up!' When I saw that we couldn't afford to cover the ring in posies, we just repackaged Gunner. Good enough."
Gunner appeared several more times throughout the rest of the taping, dispensing such important news as "Gas prices have leveled-off for the time being!", "Laughing can actually help you burn calories!", and "TNA will be solvent for at least 2 more months!"