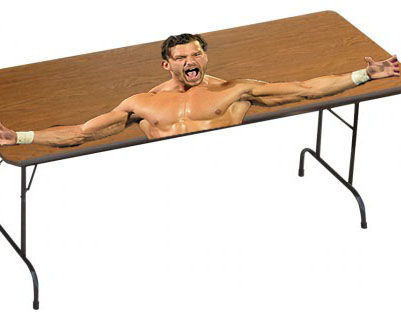 Boston, MA – Following the events of last night's TLC, WWE Superstar Fandango has decided that he should change his character from a dancer to a table.
Fandango, whose popularity peaked at the Raw after Wrestlemania 29, has fallen out of favor with the fans and has languished at the bottom of the card. Watching the TLC pay-per-view at home since he was not needed live, Fandango realized he needed to do something.
"Did you hear how those fans went crazy for those tables last nigh?" said Fandango, wiping the Zapp's Voodoo Chip crumbs from his stained hoodie. "Fans love tables. They kept chanting for them all night long and when tables finally got involved, they went nuts. Tables also feature prominently on Botchamania. You can't buy that kind of good exposure."
"Fandango has to change with the times," continued Fandango who was scanning Home Depot's website. "Fandango can't just get by with his sweet dance moves, pelvic thrusts, and good looks. To be popular like the table, Fandango must become a table. Fandango must become…Fantable!"
His transformation to that of a living table has already begun as Fandango has begun a strict regime of applying Thompson's Water Seal to his arms and torso. His friends The New Day have also vowed to support his character change by chanting at live events. "Save…Fantable! Save…Fantable!"
While he still hasn't been inserted into any new storylines, Fantable has received a new role backstage as a place-setting for catering.