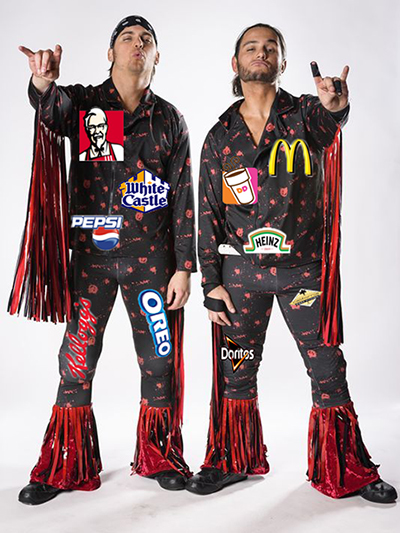 Piscataway, NJ – Popular independent pro wrestling tag team The Young Bucks tried out a number of new catchphrases during their main event match this weekend to the delight of those in attendance.
The team, which consists of real life brothers Matt and Nick Jackson, recently received a cease and desist letter from WWE for their usage of the famed "Too Sweet" hand gesture. Rather than telling WWE to "suck it" the duo decided to use different pop culture references to entertain their fans.
At this Sunday's Heck In The Wreck Room event presented by New Jersey Xtreme Pro Wrestling Syndicate Society, the Young Bucks took on the local tag team champions Buff Flexman and "The Fringe Lunatic" Roman Rollins. After a brief back and forth, the Bucks took control and began spouting catchphrases along with their maneuvers.
"Snap into a Slim Jim!" shouted Matt before delivering a snap mare.
"Do the Dew!" yelled Nick as performed a springboard splash.
"Good to the last drop!" cheered both Bucks after executing a double dropkick.
"Like a good neighbor, The Young Bucks are there!" said Nick before tagging his brother.
"Avoid the Noid!" said a fan before being severely booed by the rest of the crowd.
"Got Milk?" asked Matt before the duo performed their signature Meltzer Driver.
With their opponents on the ropes, The Young Bucks posed for the crowd and screamed "I'm lovin' it!". They then hit over twenty super kicks and pinned their opponents to win the NJXPWSS.
After the match, many speculated that The Young Bucks were now sponsored by various food companies. The duo, unavailable for comment, were last seen leaving New Jersey in the Oscar Meyer Wienermobile.