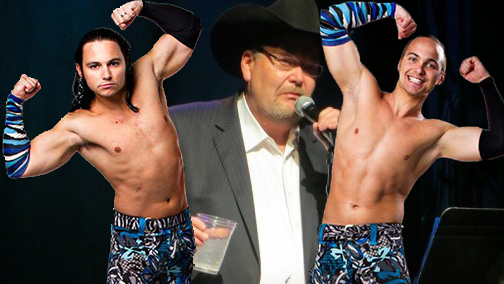 San Antonio, TX – Beloved wrestling legend Jim Ross's seminar this past weekend at the Alamo City Music Hall in San Antonio fell into chaos after an altercation with the event's hosts, The Young Bucks
The Young Bucks, a popular independent wrestling tag team consisting of brothers Matt and Nick, were greeted by the raucous crowd of mostly twenty-somethings with loud, coordinated chants. When Ross was introduced, a light round of polite clapping was heard.
After several minutes of posing and taking pictures with fans, the Young Bucks took turns asking Ross questions.
"When did you realize you loved wrestling?" asked Matt.
"Well, I…"started Ross.
"Cool! We've always loved wrestling!" interrupted Nick. "What's your favorite move?"
"See, it's not all about moves. I've always felt…" began Ross before being cut off by Matt saying, "I know the crowd's favorite move!"
The crowd then chanted "Meltzer Driver!" as The Young Bucks performed their impressive move on an unsuspecting fan.
Chants of "Yes!" "This is awesome" and "We want flips!" rang out through the hall as Ross sat impatiently, his anger quietly growing inside him.
"Sorry, Jim. We just kind of got carried away having so much fun!" said Nick. "Would you mind telling us about how important it was back in those days about riding together with other wrestlers and learning from the veterans?"
"That's a good question," said a calming Ross. "When I was just starting out, it was important to learn from the veterans. They had seen just about everything. That actually reminds me of a funny story. Dr. Death and I were driving through Tennessee with The Nightmare and Jim Duggan. The Nightmare had just eaten an entire an entire box of Smurf-Berry Crunch cereal and drank a whole bunch of Hi-C Ecto Cooler when…"
In unison, The Young Bucks shouted "Superkick Party!!!"
The crowd erupted as both Matt and Nick took turns superkicking giddy fans in the audience.
An incensed Jim Ross said, "Now, I don't appreciate all this. Wrestling can be serious."
"Quick, someone take a picture of this and tweet it to Jim Cornette!" said Matt.
"Hey, JR! What do you think about me using a closed fist?" yelled Nick while hitting his brother.
"That's it, you sons of bitches!" screamed an angry Jim Ross. "I'm gunna sauce you just like I sauced Johnny Ace! Go fluff yourselves!"
Ross, his face redder than an Oklahoma Sooners football jersey, then tore off his shirt and delivered several logical wrestling moves to the Young Bucks including atomic drops, iron claws, and axe bombers.
The Young Bucks are expected to make a full recovery in 6-8 months.