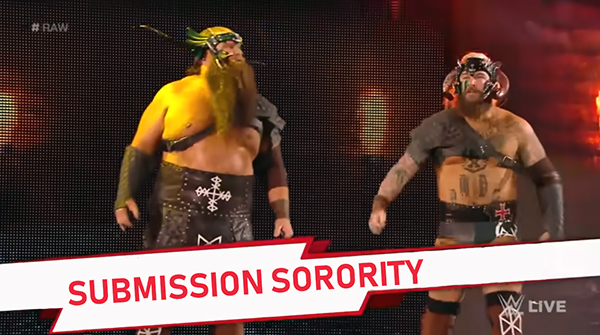 Stamford, CT – After a large outcry from fans following their debut on Monday Night Raw, The Viking Experience will now be known as Submission Sorority.
Social media exploded with rage as the tag team, who were known as War Raiders in NXT and War Machine in ROH, appeared on WWE television for the first time. The Superstars formerly known as Rowe and Hanson even had their monikers changed to Ivar and Erik.
During Monday morning's Creative meeting, Vince McMahon announced that they will once again be changing the tag team's name.
"Okay, okay. I am man enough to admit when I've made a mistake," said WWE CEO Vince McMahon, at this morning's Creative meeting. "I don't know about you, but when I think of a couple of large hairy men with painted faces slamming into smaller men, I think 'Viking Experience'. I guess the WWE Universe just isn't ready for that one, so we'll put it on the backburner. We never throw out ideas, we just repackage and reuse. Let's go around the table and hit me with some names."
"Lay-Cool!" said Smackdown lead writer Stephen Guerrieri.
"The Miracle Violence Connection!" yelled Bruce Pritchard.
"Jesse and Festus!" suggested Raw lead writer Ed Koskey.
"The Roman Reignses!" said Stephanie McMahon.
"No, no, no!" said McMahon, shaking his head in disappointment. "We need something that'll really pop! We need a name that sparks some real emotion in the WWE Universe. Kevin, what've you got?"
"Submission Sorority!" shouted a giddy Kevin Dunn.
An air of uncomfortable silence hung over the meeting.
"I love it!" said McMahon with a broad smile across his face. "It's tough, yet sexy!"
"Um, sir?" said an unnamed intern. "We tried to use that name a while back and it, um, turned out to be the name of an adult website."
"Perfect! We need more adults watching Raw!" exclaimed McMahon. "Now what about their first names? We can't have someone named Ivar in a sorority!"
"Charlotte and Paige!" cheered Dunn.
"Kevin, you've done it again!" declared McMahon "There's going to be another wall on your cubicle when you go back to your desk!"