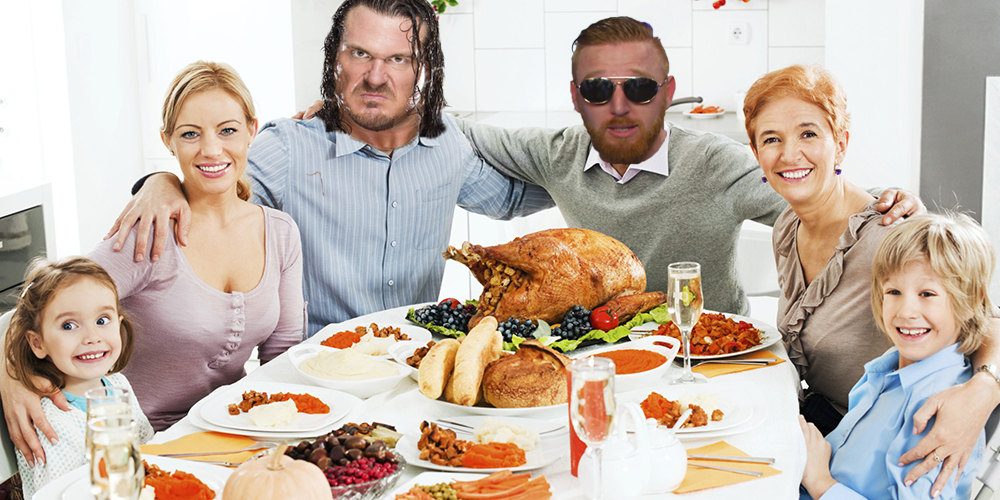 Pineville, WV – As the sun began to set over Noble's Trailer Park, the Slater Clan gather 'round their supper table to enjoy their Thanksgiving meal.
Current WWE Smackdown Tag Team champion Heath Slater proudly sat at the head of the wobbly card table, looking over his kin.
"As your proud Papa, I just want to thank ya'll for being here," said Slater. "I know some of you had to take the day off of work in the coal mine or waiting tables at the A&W, but it's important for us all to be together on the tastiest day of the year!"
Slater's many children, gathered around their 1977 Panasonic Quintrix television set, waved in approval.
"Come on, kids. Get your vittles before Uncle Rhyno eats them all!" shouted Slater's wife, Beulah.
Slater's partner Rhyno also sat at the table, silently eating a pile of Lunchables that Beulah had set out as appetizers.
Beulah placed an impressive spread of cocktail wieners, Steak-Umms, Hot Pockets, Hungry Jack potatoes, and cans of Dr. Thunder soda.
"Whooooooah, baby!" shouted Slater. "We're eating like kings tonight! Roscoe! Leroy! Ashley! John! Justin! Mary Lou! Brandy-Lynn! Let's chow down!"
The family sat in their mismatched chairs and bowed their heads.
"Let's say Grace," said Slater. "Heavenly Vince, we thank you for this totally awesome din-din that we about to stuff into our face holes. And let us say 'Smackdown Live rules!'"
"Smackdown Live rules!" said the family in unison.
"Make sure you save room for dessert," said Beulah. "I got us Yodels and Devil Dogs!"
"Yeeeeeee-haw!" yelled Slater. "Best Thanksgiving ever!"
Slater then started carving the turkey which looked suspiciously like the Gobbledy Gooker.