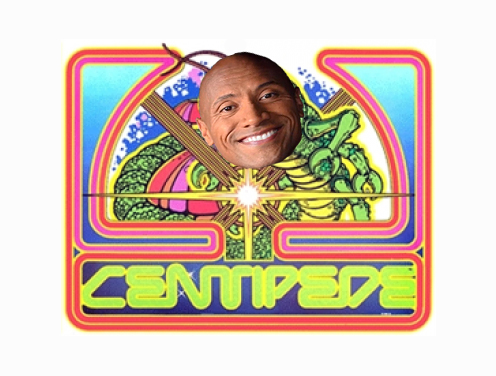 Hollywood, CA – Following the surprise success of Rampage, Dwayne "The Rock" Johnson has agreed to start in the new Centipede movie.
"The Rock is proud of every movie he's starred in," said The Rock. "From Race To Witch Mountain all the way to Journey 2: The Mysterious Island, they've all been winners. There's something special about Rampage, though. The Rock remembers playing it when he was just a tiny pebble. That incredible feeling of being some giant ape smashing buildings and eating people. It reminded The Rock of a better time. A simpler time when video games were fun. None of this Fortnite jumpy-jumpy shotgun stuff. Just you, a handful of quarters, and some pixelated monster."
Currently, Rampage has earned close to $300 million internationally, making it a bonafide hit. Hoping to ride the wave of nostalgia and action, The Rock has searched out for more video game movies. Due to his love of Centipede, he has chosen to film it first.
"Gala. Pong. Custer's Revenge. I'll do 'em all, but first, I have to do Centipede. I spent hours trying to shoot his candyass. Now I finally get to do it in real life," said The Rock.
Details are scarce for the Centipede movie, but we do know that The Rock will be playing the Human and it will be directed by Tom Six.
"Of course, The Rock can play the Human," declared The Rock. "The Rock will be right in the middle of all the Centipede action!" Surrounded on all sides! Doing my best to keep cool in uncomfortable situations. I'll be the most electrifying and entertaining Human in Centipede ever!