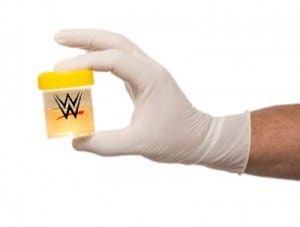 Brooklyn, NY – On Monday night, former WWE champion and Hollywood star The Rock returned to WWE television only to fail a Wellness test immediately after his appearance.
The Rock, who hasn't been seen on WWE television in months, was greeted with a large ovation from the Brooklyn crowd. After verbally dismantling Rusev, The Rock soaked up the adoration of the fans before making his way to the back. He was met in the Gorilla Position by WWE CEO Vince McMahon, COO Triple H, and Stephanie McMahon. Expecting similar adoration from the heads of WWE, The Rock's smile quickly faded as the three introduced him to Dr. Cassandra Cho.
"Alright, pal. It's test time," said Vince McMahon. "You've got to follow the rules just like everyone else."
Concerned, The Rock tried to delay the testing with one of his patented long-winded promos. "Nobody gets to see The Rock's strudel. The Rock just popped a sold-out crowd live on Monday Night Raw. The Rock just cleaned up the greasy stain that was Hoda and that ruddy-poo Kathie Lee. Just because The Rock is in better shape at the age of 42 than he ever was when he was in the prime of his career doesn't mean The Rock is on the gas. Just because The Rock now has 34 inch pythons doesn't mean The Rock eats human growth hormones like they were Tic Tacs."
"Shut up, Dwayne!" barked Triple H. "Now drop trou and pee in the cup! If you don't, Noble and Mercury will do it for you!"
Assistants Jamie Noble and Joey Mercury exchanged worried glances at the notion that they would have to forcibly remove The Rock's pants to take the test.
The Rock relented and after what seemed like several minutes of struggling, provided a urine sample for testing.
"I've never seen anything like it," said Dr. Cho. "The Rock's sample was actually sizzling. Like a soda can full of Pop Rocks. I couldn't even put the test strip into the cup at first. It turned purple just by being close to it."
A purple test strip indicates a positive result for a Wellness Policy violation.
In accordance with WWE rules, The Rock will be suspended for 30 days and subject to further testing. WWE has also taken precautionary measures and has sent The Rock's urine sample to NASA for further testing.