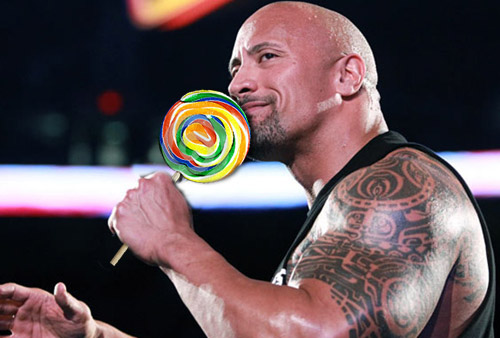 Houston, Texas – After another heated battle of words with his Royal Rumble opponent CM Punk, The Rock has come under fire for repeatedly referring to his opponents as sugary foods. Known for his quick wit and colorful commentary, the People's Champion, as he is known, raised many eyebrows following his naming of CM Punk as the Carvel ice cream treat "Cookie Puss".
"A obvious pattern has emerged in Mr. The Rock's speeches," said Kid's Health President Mindy Brown. "Last year, Mr. The Rock referred to John Cena as 'Fruity Pebbles'. This year, he refers to CM Punk as 'Cookie Puss'. We shouldn't be surprised. He's been talking about "Candy Asses" and eating pie for years. It is obvious that he is working for the American Sugar Council. They're an incredibly powerful lobby. This isn't the first time they've influenced wrestling either. Remember the NWO's catchphrase 'Too sweet'? Need I say more? What Mr. The Rock has been cooking is sugar-filled treats that are contributing to the rise in obesity with today's youth."
"The Rock is a fantastic star, both in the WWE and on the big screen, but we cannot confirm nor deny a partnership with the American Sugar Council at this time," said American Sugar Council spokesman Ben Hertz. "The Rock would be a valued member with our organization with unlimited potential. Just think of it: 'The Rock Candy', 'The People's Cocoa'. It just makes sense."
When asked about his possible connection with the sugar-based lobby, The Rock said, "The Rock isn't partnered up with no Sugar Council. If The Rock wants to call John Cena "Fruity Pebbles" and CM Punk "Cookie Puss" then that's what the Rock is going to do. If The Rock wants to call Sheamus a delicious Red Velvet Cupcake, then that's what the Rock is going to do. If The Rock wants to rename The Big Show "The Bear Claw" which is on sale now at Dunkin Donuts for only 99 cents for a limited time, then I'll do that too. Damian Sandow is Frankenberry, Kofi Kingston is Skittles, and Sin Cara Is Laffy Taffy. It doesn't matter what their name is because I am going to take my size 14 Fruit-By-The-Foot, turn it sideways, and shove it right up their Honey Buns!"
Reports of The Rock moving to Hershey, Pennsylvania have yet to be confirmed.