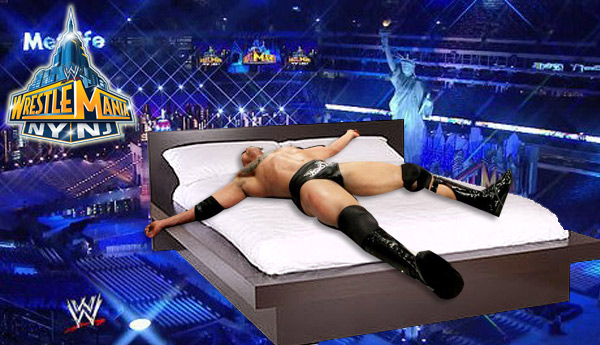 New York, NY – During an interview on Power 105.1's" The Breakfast Club" morning radio show, WWE Champion The Rock grew incredibly tired. It is believed that he will be unable to regain his breath in time for his match at Wrestlemania.
The Rock, who has been busy promoting his new movie G.I. Joe: Retaliation, upcoming movies Fast & Furious 6, Lore, and Pain & Gain, his new cologne "Scentdown" and Wrestlemania, became physically exhausted and required being placed in a resting hold for several minutes. Already having spent most of the morning during interviews, it came as no surprise that the part-time wrestler would tire so quickly.
"I…I just need…a few seconds….to catch…my breath," said a visibly spent Rock. "The Rock…can still…go…jabro…ni. The Rock…just needs…to pace…himself." The Rock then struggled to one knee, taking long swigs of water from bottle. "Ugh…there's no way…I can go…for 30 minutes….at 'Mania. Cena will (cough) have to…carry me."
While he looks more muscular then ever, The Rock's conditioning has always been a concern for WWE officials. "I knew he should have worked on his cardio instead of just lifting. We saw in his matches with CM Punk that Rocky couldn't go that much, but we still put the strap on him," said Triple H. "It's worth it because look at all the press we're getting out of it."
When Triple H was reminded that The Rock failed to mention both being the WWE champion and Wrestlemania for every interview, he sighed and shook his head. "Whatever, he's still a better champion than the Miz. If I could, I'd bump the Miz off of the pre-show. Maybe have him sign some autographs at a flea market or something."
Sweating profusely, The Rock struggled through the rest of the interview, taking several opportunities to stall by posing, despite being on radio.