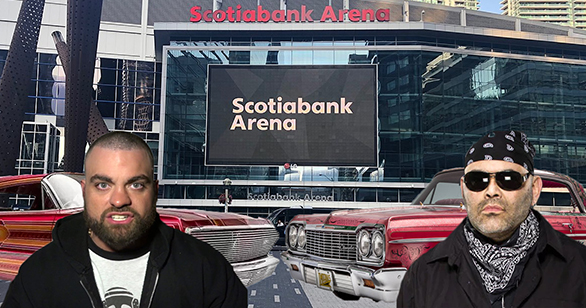 Toronto, Ontario CA – Following the horrific hit-and-run murder of their friend Richie, LAX have vowed revenge on The OGz by challenging them to a lowrider sumo match.
"Kingston, Homicide, and Hernandez are going to pay," said Konnan. "They came into our neighborhood, disrespected the block, and took our poor little Richie. He was the light of my life. Sure, we've never spoken about him before, we're not sure where he came from, and we'll probably forget about him in a month, but he was my everything."
"If that's the way The OGz want to settle things, then that's how we're going to settle things," declared Ortiz, one-half of the tag team champions LAX. "They've gone too far and now we must gain revenge for their revenge on us."
"This can't be settled in the ring," stated his partner Santana. "You ever hear of 'fight fire with fire'? Well we're going to fight car with car!"
Per the strict rules of Impact Wrestling and the incredibly negligent Toronto police department, LAX will face The OGz in a lowrider sumo match atop Scotiabank Arena. Both tag teams will use their respective cars to push the other off the roof, presumably to their demise.
"What's a 'murder'?" asked Toronto chief of police Mark Saunders when asked about the situation. He then took a sip of maple syrup and apologized, as is Canadian custom.
It is currently unclear how Impact Wrestling is planning to get the vehicles on top of the arena. Impact leadership have thrown around ideas including using cranes to building the cars piece by piece on top of the roof. Scotiabank officials have declared that the match cannot interfere with local lacrosse team the Toronto Rock's game earlier that day.
"This is the only way," said Konnan. "Pinning your opponents' shoulders to the mat for a three count is not enough. We've got to settle this outside the ring where there are no rules and we can settle this like men. Vroom, Vroom, bitches! This one is for Robbie…I mean, Richie!"
Impact Wrestling will present this life-or-death struggle on free television next week.