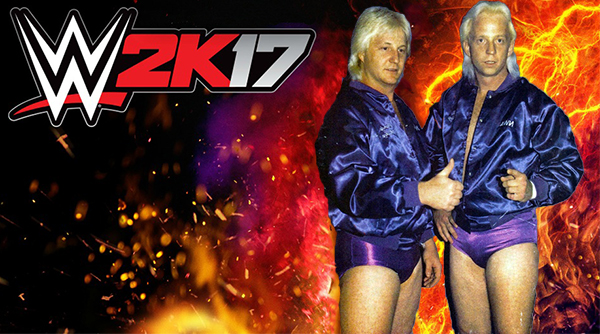 Novato, CA – WWE video game developer 2K Sports have announced the latest tag team to be added to the 2K17 roster will be NWA legends, The Mulkey Brothers.
Famous for their incredible losing streak, Bill and Randy Mulkey were a staple of the NWA in the 80's. The inclusion of the Mulkeys in a modern video game is seen as a push by the WWE to regain older fans that they have lost in recent years.
"Kids will like whatever we tell them to like, but it's the parents and old guys that control the purse-strings," said WWE CEO Vince McMahon. "Nostalgia is all the rage right now and what better way to get fans to keep ponying up money than by adding old wrestlers to a video game they already purchased."
Fan response for the new addition has been positive so far.
"I'm so happy, you have no idea," said lifetime wrestling fan Bob Kozlowski. "I used to watch these guys all the time when I was a kid. I loved the way they would always take a beating. Not like today's wrestlers. I can't wait to play as the Mulkeys with my son."
"What the hell is a Mulkey?" asked Bob's 10 year old son Eddie. "Look at their stats: 24 Strength, a 7 for skills. Personality trait: Spastic. Oh my god, their Charisma is -1. How is that possible?! The crowd reaction is pretty good, though."
"Mulkey Mania is running wild!" said Bob as his team lost for the 18th time in a row. "Just you wait. They're going to win one of these days and it's going to be huge. I can feel it. The Shining Stars won't know what hit 'em."
Other teams set to be used in future DLCs include The Batten Twins, The Moondogs, Sam Houston and Nelson Royal, and The Jumping Bomb Angels.