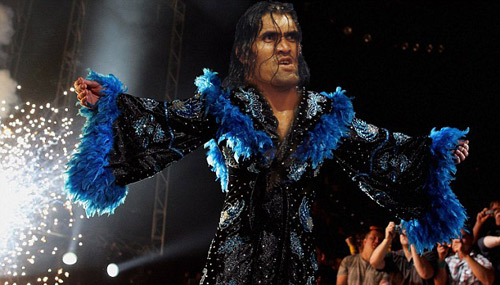 Pittsburgh, PA – Seeking a fresh start after languishing in WWE's mid-card for several months, The Great Khali will be taking the 'Nature Boy' name and persona.
To prepare for the new gimmick, Ric Flair has taken Khali under his wing. "Let me tell you something, brother, with my help, he'll be known as 'The Greatest Khali!" screamed an excited and inexplicably bleeding Flair. "To be the man, you got to beat the man, and with my help, no one can beat Khali! Just look at those chops! Pure Naitch! He's the mumbling, stumbling, SUV riding, custom plane flying, kiss-stealing, stomping and whomping son of a gun! You better buy two tickets for this ride on Space Mountain because it takes a loooooong way to reach the top! Wooooooooo!"
For the part, Khali has bleached his long black hair and replaced his baggie genie pants for custom-made Armani suits and feathered robes. The cost alone for the clothes has forced Khali to declare bankruptcy, another sign that he is taking Ric Flair's advice to heart. His efforts to perfect the Figure Four Leglock have proved better than expected as his extremely long legs tend to hit his opponent in the face while the move is locked in. The patented "Flair strut" are still a work in progress though, as Khali's rhythm and ability to walk properly are less than perfect.
"Ugh. That thing with The Miz was the worst. I mean, his face is so damn punchable," said Triple H. "I don't know what we were thinking trying to make him a good guy AND make him the new Ric Flair. After he screwed up the Figure Four, I knew we had to make a change. We love the idea of a new Nature Boy, we just put it on the wrong guy. After some serious thought between myself and a high-as-balls Sean Waltman, we decided on Khali. He is the Punjabi Playboy, after all."
The Miz was unfazed by the news that he would no longer be the new Nature Boy. "I was the WWE champion and headlined Wrestlemania. I've been on Conan O'Brian and Late Night with Jimmy Fallon. I'm engaged for Maryse for crying out loud. You can make me the new Phantasio for all I care."
The future for "Nature Boy" Khali looks to be bright as there has been talk of forming a new "Four Horsemen" group. "We're still trying to figure out who we want to put with him. We need some people to match up well with Khali, just like how Tully, Arn, and Ole went well with Ric. I know the internet wants to see Antonio Cesaro, Dolph Ziggler, and CM Punk, so there's no way that's going to happen. I'm thinking maybe Yoshi Tatsu, Ted Dibiase, and Mason Ryan." When asked if Khali's brother-in-law Jinder Mahal would be considered, a puzzled Triple H said, "They're married?"
A newly confident "Nature Boy" Khali has issued a challenge to the entire WWE roster. He bellowed, "To be man, you beat man! I will be double double E championship! Woooo! Spaceship Mountain!"