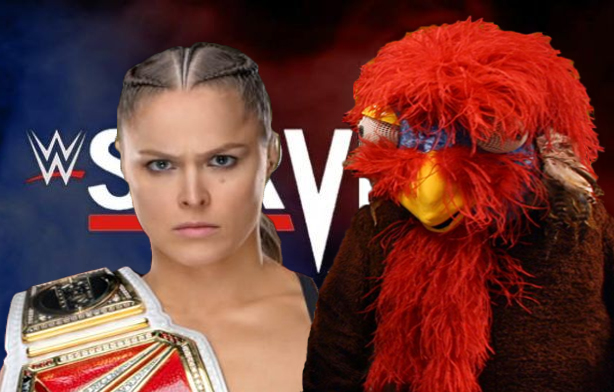 Los Angeles, LA – Last night's historic Survivor Series was capped off with the surprise return of WWE legend the Gobbledy Gooker.
The Gooker, which hasn't been seen since its brief feud with Joey Janela at Starrcast this summer, was hand-picked by Becky Lynch to replace her. Lynch was set to take on current Raw Women's Champion Ronda Rousey until an injury forced her to miss Survivor Series.
"I've always looked up to the Gooker ever since I was a little girl," said Lynch. "Gooker reached out to me personally after I was taken off Survivor Series and offered to help. I know I originally picked Charlotte, but by the time Sunday rolled around, I had forgotten if we were friends or enemies. Bird is the word!"
The crowd roared with approval as the Gobbledy Gooker's music hit, interrupting Charlotte's entrance. The giant turkey pie-faced Charlotte as it walked past, leaving her with a mouthful of feathers. The oversized bird then pointed a menacing wing directly at a terrified Rousey. A peck to the face, tail feathers to the chest, and a chicken wing were all that was required. The match was over in seconds.
"I've never told anyone this before, but I'm absolutely terrified of birds," said Rousey after the match. "The sight of that…that…thing shook me to my core. I was so scared of getting bird flu or salmonella that I froze."
Following the dominant performance, Gobbledy Gooker grabbed a microphone an addressed the rabid and hungry crowd.
"When The Man can't get the job done, you call for The Turkey," warbled the Gobbledy Gooker. "The first thing I want to be done, is to get that piece of Rousey out of my ring. Don't just get her out of the ring, get her out of the WWE because I've proved, hun, without a shadow of a doubt, you ain't got what it takes anymore! You sit there and you thump your armbars, and you say your questionable tweets, and it didn't get you anywhere. Gobbledy Goker 3:16 says I just roasted your ass!"
In response to the incredible win and now-legendary promo, WWE has ordered 10,000 "Gobbledy Gooker 3:16" shirts.