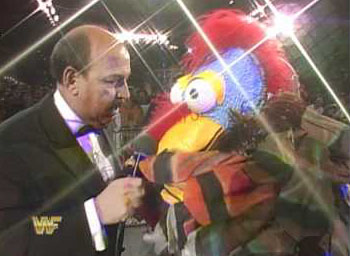 Plymouth, MA – Last night's Survivor Series celebrated the 25th anniversary of the debut of The Undertaker, it was also the 25th anniversary of the debut of the Gobbeldy Gooker.
For an extended amount of time in 1990, the WWF, as it was known at the time, had been carting around a giant egg to all of their events. There was a large amount of speculation as to what may be in the egg. Anticipation was at an all time high at the 1990 Survivor Series with WWF interviewer "Mean" Gene Okerlund suggesting that the egg may have contained a new wrestler or the Playboy Playmate of the month.
The live crowd and viewers at home were extremely disappointed when a giant turkey named the Gobbledy Gooker emerged from the egg and proceeded to dance in the ring to the delight of no one. Save for a brief cameo here and there, the Gooker never recovered and was rarely seen again.
Still upset over the poor debut, a drunk and belligerent Gooker left an angry voicemail on Okerlund's cell phone.
"You think you're so great, Okerlund?" slurred the Gooker. "Well let me tell you something…you're not! I would'a been huge if it wasn't for you sandbagging my feathers. Like AFLAC duck huge. It would'a been me and Hogan at Wrestlemania. You hear me you Fred The Baker looking jerk?! You couldn't even do a stupid cartwheel. I don't…I don't even care, man. It's like psssshhhhhh ha ha ha know what I mean?"
The Gooker then sobbed into the phone for several minutes before apologizing and telling Okerlund that he always loved him.
Okerlund was reportedly confused by the voicemail saying "Why the hell is there all this gobbling on my phone? This better not be that pipsqueak Jimmy Hart trying to rib me! I need a drink!"