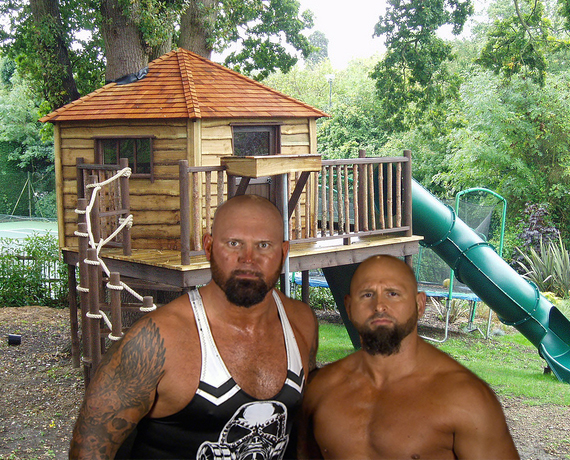 Cincinnati, OH – Now that they have established themselves as a force to be reckoned with in the WWE, The Club have decided it is time to open an official clubhouse.
"We're here and we're here to stay," said Luke Gallows from inside the clubhouse. "Everyone is going to be totally jealous of The Club Clubhouse. Karl's dad is like the president of a bank or something and bought us this awesome clubhouse that he put in his backyard."
"It's got a slide, and swings, and a trap door and everything," said Anderson, barely containing his excitement. "The WWE Universe is now on notice: The Club Clubhouse is super cool and none of you are allowed in!"
"This is the best," said Gallows while pouring Skittles into his mouth. "We can stay up late and read comic books and no one, not even Vince McMahon can tell us what to do!"
"Well, we have to be quiet after 10," said Anderson. "We don't want to wake my parents."
Suddenly, a knock came from the clubhouse's secret door.
"That's not the special knock!" shouted Anderson.
"Come on guys, you know it's me!" implored AJ Styles.
"That's not the special knock, bro. How do we know you're not one of the Usos trying to sneak in and steal those Playboys we found behind the convenience store last week?"
"Dang it, guys! I can't hold onto the ladder and this box of Gushers at the same time. Let me in!"
"What's the password?" giggled Gallows.
"Oh, man. It's…it's…wait, I got it. 'Boys rule, girls drool!'" said AJ.
Anderson opened the secret door and the trio partied late into the early evening.