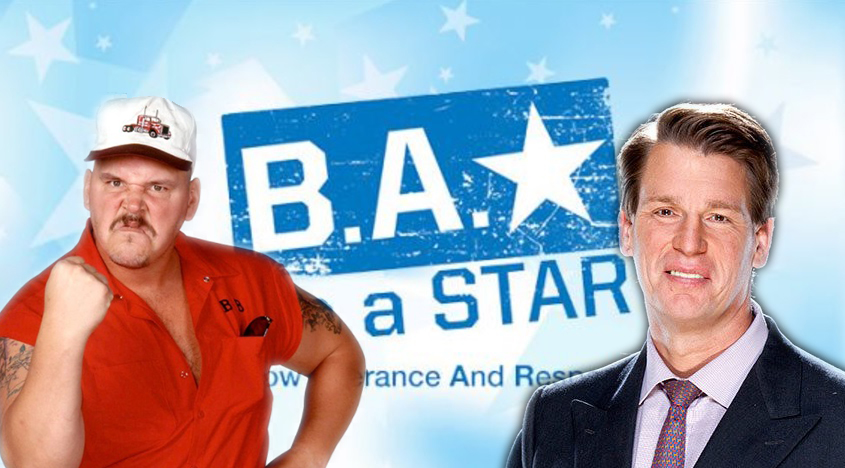 Sweetwater, TX – Over the weekend, WWE commentator and former wrestler John "Bradshaw" Leyfield received a special lesson on how to "Be A STAR".
JBL, who has come under fire recently due to accusations of bullying, awoke to the sounds of a tractor trailer horn blasting in his driveway.
"What in tarnation is going on?" shouted JBL from his window. "I need to get my beauty rest! I'm supposed to be part of an eight-person panel on Fox News later today!"
Former WCW star The Blacktop Bully burst through JBL's bedroom door and grabbed him by the ear. JBL tried to fight back, but years of ring rust and being oppressively obnoxious on commentary had left him weak and unable to get out of the Bully's grip.
"Seems like you've got a real problem being a bully, mister," said Blacktop Bully. "Well, the WWE hired me to teach you a lesson you'll never forget. I'm here to show you how to 'Be A STAR'!"
JBL flailed his arms as the Bully pulled him down the stairs and dragged him outside on to the front lawn.
"Be respectful of your co-workers!" yelled Blacktop Bully while giving JBL a wet willie.
"Speak with an indoor voice!" shouted Blacktop Bully while giving JBL a purple nurple.
"Understand that people need their personal space!" emphasized the Blacktop Bully as he yanked JBL's underwear into an atomic wedgie.
JBL covered his face with his cowboy hat to try to hide the tears rolling down his cheeks.
"All right, boys! Back it up!" bellowed Blacktop Bully.
A large moving truck with "Darsow's Repo Company" written on the side backed up into JBL's driveway next to Bully's own truck. A group of men emerged from the truck and started placing JBL's household items into the back.
"Wh-what are you doing?" sniffed JBL between uncontrollable sobs.
"We're showing you that bullying is wrong. Doesn't feel good, does it, nerd," sneered Blacktop Bully.
As the group finished removing the last items from JBL's house, Blacktop Bully leaned out the window of his truck and shouted to JBL, "Big Bully Busick will be here later today for your lunch money. Don't be late."
Blacktop Bully honked his horn and fired up his engine, leaving JBL in a cloud of black exhaust and emotions.