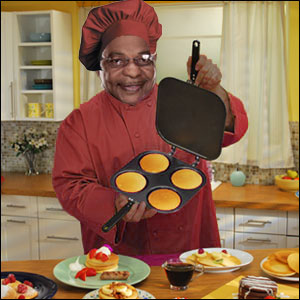 Houston, TX – Early Saturday morning, WWE Smackdown Senior Advisor Teddy Long decided to make himself a hearty breakfast featuring a wide variety of foods.
A velvet robe-clad Long entered the kitchen and began taking pots, pans, bowls, and various kitchen utensils out of the cabinets. While he normally settles on something quick and easy for breakfast, Long decided to treat himself. "For the first time ever, right here in this kitchen, eggs, french toast, bacon, pancakes, cereal, and juice will all go one-on-one with my taste buds!" said Long to absolutely no one in the empty kitchen.
Long proceeded to grind coffee beans, squeeze oranges, and pour himself a bowl of Good Friends cereal. He decided to add some cheese to his eggs, proclaiming to himself, "While I like some cheddar, I gotta back the Jack!" After creating a large mess making pancakes and bacon, Long found himself with a conundrum: what bread to use to make french toast. "Hmmm. Should I use the white, the wheat, or the Italian," Long asked the deafening silence of the room. "I know! I'll use some nice challah bread. Challah challah, playa!"
Ready to eat, Long sat down at the table with his plates of food, beverages, and the latest edition of WWE Kids magazine. After taking several minutes to complete the word search and finding the differences between two photos of Ric Flair, Long began to eat. To his surprise, he noticed that the yolk of his egg began to run, touching his bacon.
"Now hold up just a minute, playa. We can't be having this," said Long, talking to his food because no one else was around. "Eggs, bacon. I'm going to eat you both. And it's going to happen….right now!"
As Long began to eat his eggs and bacon together, he noticed that both foods were also touching his french toast and pancakes.
"Enough!" proclaimed Long, shouting into the crippling void of silence. "The only way to solve this is a tag team match!"
"Teddy! What the hell are you doing in my kitchen, man!" yelled an incensed Booker T
Surprised, Long grabbed his plate of food and ran out of Booker T's house via a broken screen door.