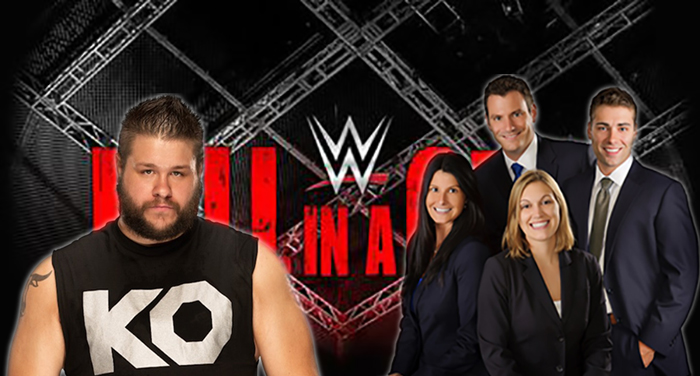 Oakland, CA – In a shocking turn of events, WWE Superstar Kevin Owens will be facing a team of Vince McMahon's lawyers at Hell In A Cell.
Last week, Kevin Owens delivered a devastating headbutt to WWE CEO Vince McMahon, causing the 72-year-old to bleed from the wound. Originally scheduled to be a Hell In A Cell match between Owens and McMahon's son Shane, Vince hatched a new plan.
"Owens crossed the line last week," said McMahon. "He crossed a line that few would ever dare. No, a match against Shane would be too easy," said McMahon, unintentionally burying his son. "His fists of fury are legendary, but it's just not enough. Also, he'd probably fall off the cell and hurt himself. I want Kevin Owens to suffer. I want him to know pain like he's never known before. I want him to feel the unfettered fury of the most diabolical and ruthless team in all of sports entertainment: my lawyers!"
The match, now known as "Chaos In The Courtroom", pits Owens in a handicap bout against McMahon's squadron of lawyers. Dubbed "McDevitt's Marauders", the group will feature "The Litigator" Lara Lawrence, "Personal Injury" Peter Glassman, "Corporate" Carl Moore, The Masked Paralegal, and Jill The Intern. Not only does the event still take place inside the cell, but it will now include "implements of justice" according to WWE officials.
"There will be gavels, scales, benches, podiums, robes and all sorts of items you'd find in a courtroom!" said McMahon after the announcement. "Each one of those items will spell your doom, Kevin Owens! They will leave you destitute and completely destroyed. And when you're beaten, broken, and begging for an appeal, I'll stand over your corpse and scream 'Kevin Owens, you're fired!'"
In response to the new match, Kevin Owens has signed up for LegalZoom.com