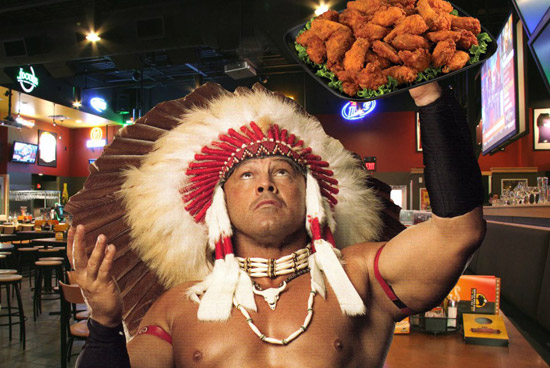 A new Buffalo Wild Wings restaurant is set to open in Pembroke, North Carolina, but there's been a bit of a hot and spicy controversy brewing between the company and the owner of the would be franchise. Christopher Chavis, better known to wrestling fans as "Tatanka", is the franchise owner in question who was excited about the venture at first, but has since found himself coming under fire from the company.
"We liked Chris, he showed a lot of spirit", said regional manger Bob Javorski of the wing based restaurant chain when reached for comment. "However, he has made quite a few ridiculous demands. I mean, yes, franchise owners have certain control over their own venues, but they're still under the corporate umbrella."
Although we were unable to get in contact with Mr. Chavis himself, we were able to get an interview with his assistant manager, Paul, who told us that, "things were normal at first, we were set to open up on time, but then one day Chris went into this frenzy in the kitchen. He was yelling war cries, tomahawk chopping plates with his hand, before storming out of the place with a promise to never return."
We'll have more on this story as it develops.
UPDATE: After numerous phone calls and extensive searching, we were able to track down Mr. Chavis on a local reservation where, while hesitant at first to talk with us, finally opened up about the incident.
"I thought that owning a place called Buffalo Wild Wings would be a great way to connect to my people," Chavis explained to us, "but I learned that these "wings" were actually made with chicken. I had to walk away; it would be a disgrace to serve something that is such a blatant lie."
Stroking his double chin, he continued. "Perhaps it's time to open Tatanka Wild Wings. Without paying for a franchise, I'd likely make a lot more wampum."