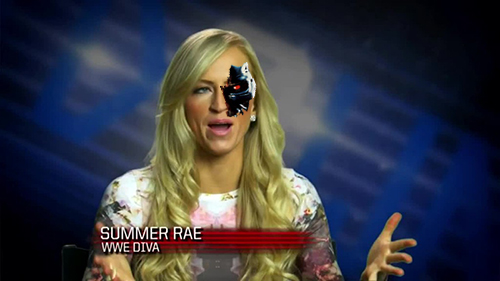 Roanoke, VA – WWE Diva and co-star of The Marine 4 Summer Rae was recently replaced with a cyborg for the future. Despite the incredible turn of events, both WWE officials and performers did not notice the switch had occurred.
"Lifeless glowing eyes. No emotion. Icy cold hands. Yup, same old Summer," said her Total Divas co-star Natalya.
"I love the way she robotically moves her arms and rotates the top half of her body 360 degrees," said her former dance partner Fandango.
No one in the production crew has noticed either, despite Cyborg Rae's strange behavior during a recording of WWE Countdown.
"New Jack and Sabu were a big part of ECW," deadpanned Cyborg Rae. "And when they got together, things really got extrrrrrrrrrrrrr010010001001000111010101101. Syntax error 3.2319586. PRIME DIRECTIVE ACHIEVED. ASSIMILATE! CRUSH! KILL! DESTROY!"
Despite this anamatronic outburst, the doppleganger was placed into a match on Raw with Paige. The match quickly deteriorated as Cyborg Rae carelessly clotheslined Paige's head clean off her body into the fifth row.
"Just like my old buddy Ron Simmons!" screamed JBL to the delight of no one.
Following the decapitation, Cyborg Rae left the ring holding a small picture of John Cena, questioning members of the audience if they knew his whereabouts. Luckily for Cena, we can't see him, and Rae has yet to find him.