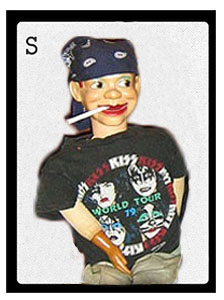 Las Vegas, NV – In a first for the state of Nevada, beloved Wrestlecrap dummy Stubby has been banned for life from the entire city of Las Vegas.
Stubby arrived in Las Vegas late Friday night, already drunk. After stumbling off the plane and taking a taxi to Caesar's Palace, the Wrestlecrap mascot managed to lose $500 at blackjack. Security officials removed him from the casino floor after he was heard shouting "Hit me! Hit me like Shane McMahon hits his opponents!" to a cards dealer.
After projectile vomiting into the Bellagio fountain, went to the Tuscanny hotel to perform with the Wrestlecrap panel. In the middle of a lewd rant about giving splinters to Katie Vick, Stubby realized that he was, in fact, addressing a DDP Yoga class.
Following a thorough beating by both Diamond Dallas Page and his students, an injured Stubby made his way into a backstage green room to recover. To soothe his pain, the puppet ate handfuls of blue candies that were left out in a bowl. He quickly realized that the candy was actually male erectile dysfunction pill Blue Chews.
"Help! Help! It's like Redwood National Forest down here!" screamed Stubby running through the hotel. His unintentional poking and prodding of several wrestlers was the last straw for city officials. Officials said that Stubby was banned from the city and would be placed in a wood chipper if he ever returned.
Sore and uncomfortable, Stubby hitched a ride headed towards Branson, Missouri.
"i'm going to Branson!" shouted Stubby out the car window. "Those guys know how to party!"