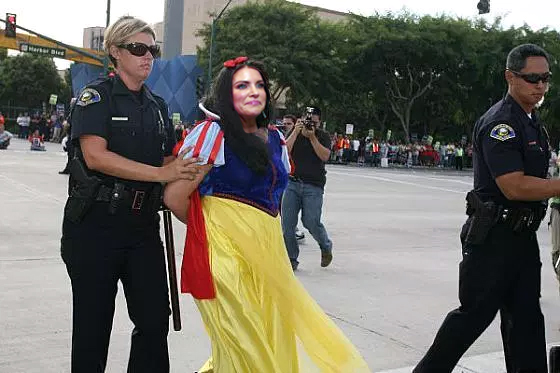 Orlando, FL – WWE's Chief Brand Officer Stephanie McMahon was caught by Disney World Security vandalizing several locations throughout the theme park.
McMahon made headlines this past week stating that "10-20-30 years from now, there's no reason we can't be as big or bigger than Disney." While most experts in and outside of the wrestling business scoffed at such a statement, McMahon took an odd step forward in trying to make it a reality.
"According to security footage, Mrs. McMahon-Levesque snuck into the park via Frontierland," said head of Disney security Buck Pillsbury. "From there she left a trail of destruction throughout the park. Smashed shop windows, 'WWE' spray-painted on signs, released lemurs from Animal Kingdom, and chewed gum placed beneath multiple benches. Interestingly, she completely avoided Space Mountain."
Other acts of vandalism included pantsing all the characters in Pirates Of The Caribbean, smashing all the cups at the Mad Hatter's Tea Party, and defecating in the Twilight Zone Tower of Terror.
The future-leader of World Wrestling Entertainment was eventually apprehended after failing to scale Spaceship Earth at Epcot.
"We promised to add Vince to The Hall of Presidents," said security guard Veronica Mazza. "That's when we hit her with the tasers. When she came to she was rambling about WWE being bigger than Disney. Also, something about putting Minnie in a headlock."
McMahon was forced to issue a public apology and pay a $25,000 Disney Dollar fee. She must also promise to stay at least 1,000 feet away from all mascots.