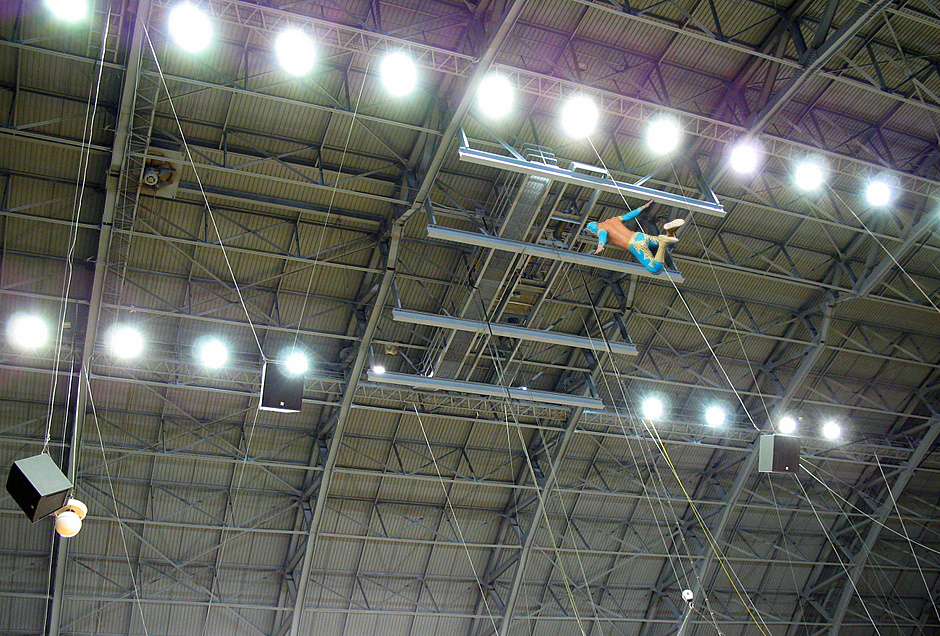 Shreveport, LA – During a house show at the Hirsch Memorial Coliseum, WWE Superstar Sin Cara performed a high risk maneuver that saw him literally get caught up in the lights of the arena.
The incident occurred about halfway through the show in match between Sin Cara and Drew McIntyre. Everything was going according to plan when Sin Cara attempted a springboard crossbody dive off the top rope. Normally when performed, former announcer and current Smackdown General Manager Booker T would say "He got caught up in the lights!" The five-time ( five-time, five-time, five-time, five-time) world champion's exclamation would prove to be prophetic.
At what appeared to be the apex of his ascent, Sin Cara's momentum propelled him high up into the rafters of the arena. He instinctively grabbed on to a group of lights, stopping his uncontrollable rise, but stranding him high above the audience. The match was considered a no contest as a fire crew was called in to get the Superstar down.
"Well, I've heard of cats stuck in trees, but I've never heard about no luchadore caught in some lights," said Shreveport fire chief Jem Claiborne. "Unfortunately, our ladders don't reach that high so we have to get a special crane sent in from Dallas. Took about three hours. By the time we got close enough to him, he didn't want to leave."
Triple H, who was backstage, went up in the crane to talk to Sin Cara about coming down. "My Spanish isn't very good, but it sounded like he was comfortable where he was," said Triple H. "I tried yelling at him, but that didn't work. I even offered him a US Title run, but that just made him climb higher."
Sin Cara eventually came down on his own, safely reaching the ground. Upon entering the locker room, Sin Cara tripped on some wires and tore his ACL.