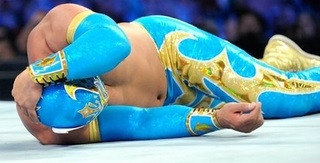 Philadelphia, PA – WWE high-flyer Sin Cara was injured on Sunday night during the first Money In The Bank ladder match despite not actually participating or even being near the ring.
Early on during the epic battle for a briefcase containing a contract for a championship match, Sin Cara decided to make himself some microwave popcorn in a green room backstage. Ignoring the warning on the bag to wait, Sin Cara opened the steaming bag of of popcorn, scalding his finger tips. In a good deal of pain, Sin Cara made his way to the couch, stubbing his big toe in the process. After accidentally sitting on the remote, the wrestler formerly known as Mystico, bit down on a popcorn kernel, cracking a premolar. As he went to grab his mouth in pain, Sin Cara accidentally poked himself in both eyes. Stumbling blindly, Sin Cara slipped on some imitation butter that had spilled on the floor, sending him careening out an open window into a truck-bed filled with rat traps and salt.
"Mr. Cara is in serious, but stable condition," said Dr. Jamie Fitchburg. "I've never seen anything like it. Mr. Cara's bones are incredibly weak, almost like peanut brittle. Not even the quality kind of peanut brittle. I'm talking about the year-old kind you find at a dollar store, right next to Larry The Cable Guy Beer Bread mix and misspelled Christmas decorations. I've set his many broken bones, repaired his torn ligaments, and replaced the many liters of blood he lost. We're going to keep him under observation for a few days, but he should be able to go home within the week."
"We're looking at a 6-8 month recovery time for Sin Cara," said Stephanie McMahon. "That may seem like a long time, but at this rate, he'll still return before Rey Mysterio does. I didn't even know he was still on the active roster until Hunter told me. Go figure."
Unable to speak due to biting his tongue, Sin Cara wanted to reassure his fans that he was alright by raising his thumb, which he promptly sprained.