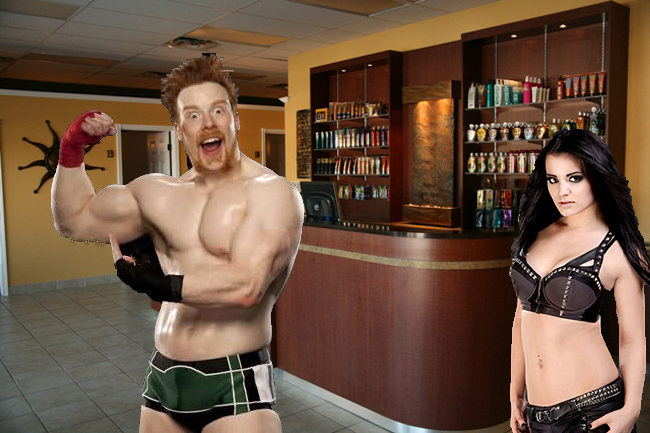 Norwich, England – Current WWE US Champion Sheamus and WWE Divas Champion Paige have teamed together to open the world's first "Anti-Tanning" Salon.
When asked why the two wrestlers decided to open a business, Sheamus said, "Fella, we've all seen what happens to some people once they leave the business. Think of this as an investment. I don't want to be 'Wrestling Superstar Sheamus' asking people for $10 an autograph at the Gary, Indiana ComicCon."
"I didn't think I was ready to own a business, but here we are," said Paige, shielding herself from the sun with a large black hat. "We're just getting ahead of the new trends. Soon everyone in Hollywood will want the "Norwich/Dublin" look. Pale is the new tan. Our treatments range from the beginner 'Larry Bird' to the intermediate 'Vanilla Ice' all the way to the expert 'Mitt Romney'."
The salon, which is now open in Paige's hometown of Norwich, will be equipped with multiple anti-tanning beds, pitch-black anti-tanning rooms, The salon will also be selling several pieces of merchandise including sunglasses, gigantic hats, long-sleeve shirts, and full-body veils. Procol Harum's 'A White Shade Of Pale', Cream's 'White Room' and Hank Williams' 'The Pale Horse And His Rider' will feature prominently on the salon's music playlist.
While both Sheamus and Paige have put considerable amounts of money into the salon, they have received the backing from several businesses including Miracle Whip, Elmer's, Wonderbread, Colgate, and Saltines.
"I really feel people are going to enjoy anti-tanning," said Sheamus, applying SPF-1000 to his face. "It's for young and old, people of all backgrounds, and for the lasses and the fellas…uh, Fella."