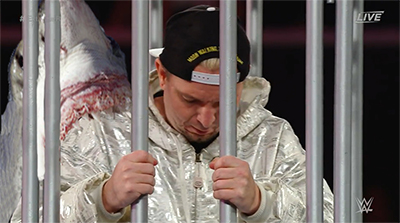 Pittsburgh, PA – A series of errors at last night's Extreme Rules event led to a shark accidentally being left inside the cage used to hold James Ellsworth above the ring.
The regrettable event took place during last night's match between Asuka and Carmella for the Smackdown Women's Championship. To prevent Ellsworth from interfering in the match, he was placed inside a shark cage and suspended above the ring.  Unfortunately, a clerical error led to his grisly demise.
"Someone messed up ordering the cage," explained Triple H. "Y'know lots of paperwork goes into ordering these things. Sign this, initial that. Everything in triplicate. I guess the vendor misunderstood and included a shark with the shark tank. These things happen."
"I thought it was weird that a shark was in there, but I don't get paid to think," said Vanessa Oshie, the PPG Aquarium intern that delivered the cage. "All I get is 3 course credits at Carnegie Mellon University."
Ellsworth's terrified screams were could not be heard over the loud chants from the live audience. The shark, frightened by the noise, flashing lights, and not being able to breathe, thrashed around the cage. Ellsworth tried to fight back in vein but was no match for the powerful animal and its sharp teeth.
"I thought he was just working the crowd," said Vince McMahon who watched the carnage unfold backstage. "Really selling that he was afraid of heights. Oops."
"I guess a man with two fists doesn't have a fighting chance against a shark with two fins. Or flippers. Same thing," said WWE crew member Frank Lisiewicz.
Several rows were doused in Ellsworth's blood and vital organs. A listing on eBay purportedly selling one of Ellsworth's kidneys was quickly removed. WWE is planning a ten-bell salute in Ellsworth honor tonight at Raw.
"It's a terrible tragedy," said McMahon after the event. "Watching that poor shark suffocate after being out of the water. I was ready to give him a full contract! On the plus side, catering now has enough shark meat to make meals for a few months. That's good eating!"