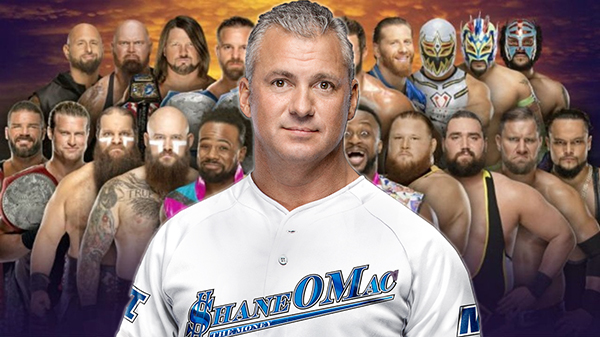 Riyadh, Saudi Arabia – Even though it has yet to happen, Shane McMahon is planned to win the Tag Team Turmoil match at Crown Jewel.
Crown Jewel, set to take place next week at the King Fahd International Stadium in Riyadh, Saudi Arabia, is scheduled to showcase nine tag teams competing for the WWE World Cup. While many had believed The New Day or The Revival would come out on top, leaked plans currently show WWE CEO Vince McMahon's son coming out the winner. All this despite Shane not being in a tag team.
"It's really quite astonishing," said Dave Meltzer on Wrestling Observer Live. "To fly all those people to Saudi Arabia just to have them lose to Shane is just…I don't know. And the way he does it is just absolutely ridiculous. This is just typical WWE mismanagement."
The current plan is for Shane to ride a giant tidal wave of blood provided by the Saudi government to the ring. The wave will wipe out seven teams of the teams, washing them beneath the ring. Shane will overwhelm The Viking Raiders and Heavy Machinery with his patented flurry of punches and strikes. The referee will be forced to stop the match due to Shane's awesomeness. Shane will once again be declared the "Best In The World" and Mr. Saudi Arabia.
WWE officials have denied the leak, but a giant surfboard with CM Punk's face on the bottom was recently seen backstage at Raw. Rumors have also arisen stating that Shane will pants boxer Tyson Fury.