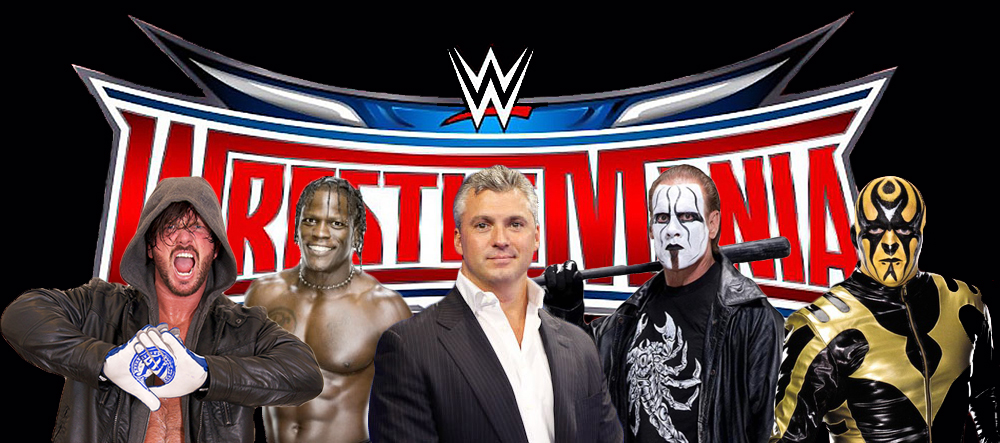 Nashville, TN – In a move that has sent shockwaves through the wrestling community, the newly-returned Shane McMahon revealed on Monday Night Raw that he will be leading Team TNA at Wrestlemania. The surprising announcement came in TNA's own home town of Nashville, Tennessee. This marked the first time that the rival wrestling company has ever been mentioned on a live WWE broadcast.
While the announcement at last week's Raw of Shane taking on Undertaker left many fans confused, the "fruit of Vince McMahon's loins" set the record straight during a passionate promo. After spasticlly dancing to his theme song, Shane McMahon confidently strode to the ring and addressed the WWE Universe.
"It feels great to be back!" said McMahon slightly out of breath. "But unfortunately, a lot has changed since I've been gone. You know it and I know it. That's why I am here to make a difference. I am here to upset the status quo of the WWE. My father and my sister have grown too lazy and it's time for a change. I hereby announce an open season on the WWE…and I am not alone! Ladies and gentlemen, please welcome the force that will take over the WWE at Wrestlemania….Team TNA!"
Former TNA talents AJ Styles, R-Truth, who wrestled as Ron "The Truth" Killings, and Goldust, who wrestled under the name Black Reign in TNA joined McMahon in the ring. The three Superstars posed behind McMahon as he continued. "Don't call this an invasion! Don't call this an insurrection. You can just call us Team TNA. And Dad, you may have the Undertaker, but I've got something even better…Sting!"
A deafening roar rose up from the crowd at the former TNA Champion walked out to the ring and carefully stepped through the ropes.
"Now, Sting can't wrestle due to injury, but he is more than capable of hitting people with a baseball bat or challenging them to a beach volleyball game!" yelled McMahon. "Bring your army, Dad! Game, set, match!"
The fearsome foursome then did Shane McMahon's signature "Here comes the money" dance in a most menacing manner.
For the use of TNA's name and likeness, TNA President Dixie Carter said, "Well, it just sounds like such a good idea, I couldn't say no! Yeah, it hurts that some of my boys left, but I'm just so happy for them."
Carter continued, "WWE was very kind and gave me a crisp $100 bill. Impact Wrestling will live another 3 hours! Plus, I got two free tickets to tonight's Raw. Dang, I've never seen so many people at a live wrestling show in my life! Look at all the pretty fireworks and videos. And the hot dogs here come with buns! I can put ketchup and mustard on them! Yummers, ya'll!"
Carter was last seen filling her purse with sugar packets from the concessions stand and removing copper wiring from the production truck.