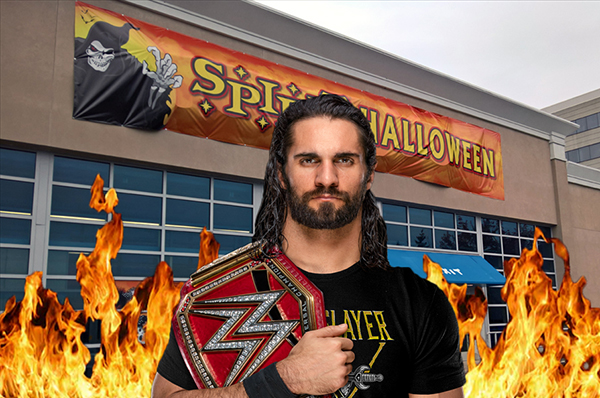 Davenport, IA – On Saturday, WWE Universal Champion Seth Rollins set fire to a display in the Spirit Halloween store on 53rd and Elmore.
Witnesses described the scene as chaotic.
"I'm here with my two kids to get costumes for their school Halloween parade and this maniac lights a bunch of matches and screams 'Burn it down!'" said Earl Fosse.
"We were doing an inventory on our gallon jugs of fake blood in the back when we started to smell smoke," said store manager Mckenzie Nelson. "I look out and see a man spinning giant red belt above his head. It was so bizarre."
"Roman Reigns never lit anything on fire," said 8-year old Billy Zerkas.
Several fire companies from the surrounding area were called in to contain the blaze. Luckily no injuries were reported.
"Yowie wowie!" said Muscatine fire chief Samuel Krueger. "I haven't seen a fire like that since that time JR interviewed Kane!"
Investigators believe that the cheaply made costumes and Rollins' naturally greasy hair, acted as an accelerant. The store was engulfed in flames within minutes and took several hours to extinguish.
Despite several eyewitnesses and Rollins admitting that he set the fire, police have declined to arrest him because he did not hit anyone with a mallet.