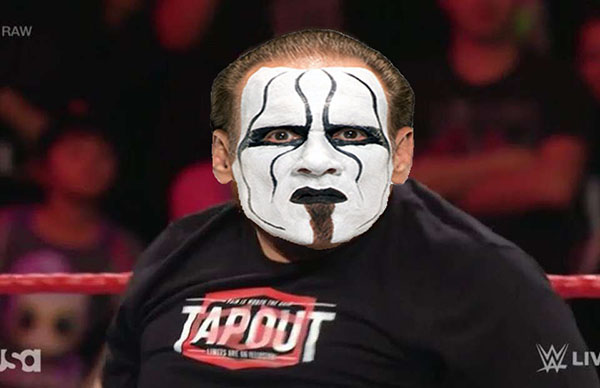 Portland, OR – In what can only be described as the most shocking twist of the modern wrestling era, Samoa Joe was revealed to be none other than WCW legend Sting.
The major revelation came during a passionate in-ring promo by Triple H with Samoa Joe at his side.
"Tonight, I stand before you with the dominant Samoa Joe by side as the true leader of the WWE," said Triple H triumphantly. "The Samoa Submission Machine will do my bidding and will devastate anyone that gets in my way. Just ask Seth Rollins. Joe twisted his body like a soft pretzel fresh out of the oven. If I told him to, Joe would have even salted Rollins and covered him in mustard. Sorry, I skipped lunch today. Anyway, nothing will stop me now!"
As a worked-up Triple H went into minute 20 of his speech, Samoa Joe slowly began to peel his own face back, much to the shock and horror of the live crowd. Shrieks of terror soon gave way to cheers of elation as beneath the Samoa Joe mask was the iconic black and white face paint of Sting.
Confused by a positive reaction during one of his rants, Triple H turned around and stood frozen in fear. Sting grabbed Triple H and delivered a devastating Scorpion Death Drop.
"It's me, Hunter! It was me all along, Hunter!" shouted Sting above the deafening roar of the crowd. "I've been waiting and planning for months to get back to you. I had to act like Joe, dress like Joe, injure people like Joe. The real Samoa Joe is tied up in a supply closet at Full Sail University. The final piece was hurting Seth Rollins in order to get to you and exact revenge for my loss at Wrestlemania."
Sting stood over Triple H's limp body and pointed to the Wrestlemania sign.
"Oh, and while we're giving out big reveals, I'm also Little Jimmy, I drove the white hummer, I blew up Vince's limo, and I stole the last cookie from the cookie jar! Woooo!" shouted Sting as the arena roared in approval.
Shortly after the promo, a rescue team was dispatched to Full Sail University to ensure that Samoa Joe was, in fact, still alive.