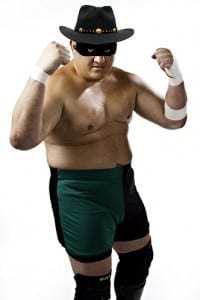 San Francisco, CA – Contrary to reports that he has signed with ROH, WWE officials announced that they have signed former TNA star Samoa Joe and have already repackaged him.
Joe, famous for his intense wrestling style and no-nonsense attitude, will be rechristened as Jimmy Jack Uso, the masked cousin of WWE tag team champions Jimmy and Jay Uso. WWE unveiled Jimmy Jack in a press conference yesterday.
"We here at WWE are proud to have Jimmy Jack Uso joining the roster," said Stephanie McMahon. "The Usos are a force to be reckoned with, even though I can't tell which one is which. At least I can tell the difference between Jimmy Jack and the twins," said McMahon patting Jimmy Jack's belly. "Plus, it'll make writing way easier when he inevitably turns on them. I mean, we can't have three Samoans wearing boots and speaking perfect English."
"Yeeehaw, partners," said the masked Jimmy Jack flatly. "Shucks, I'm just glad to finally be in the dubya-dubya E to help out my kin, Jay and Jimmy. We're going to hog tie that Swiss Miss and that Canadian Kidd and have a big ol' hoedown afterwards. Uce!"
After seeing him, Vince McMahon is currently toying with the idea of eventually giving Jimmy Jack Uso a "Nation of Pies and Chips".