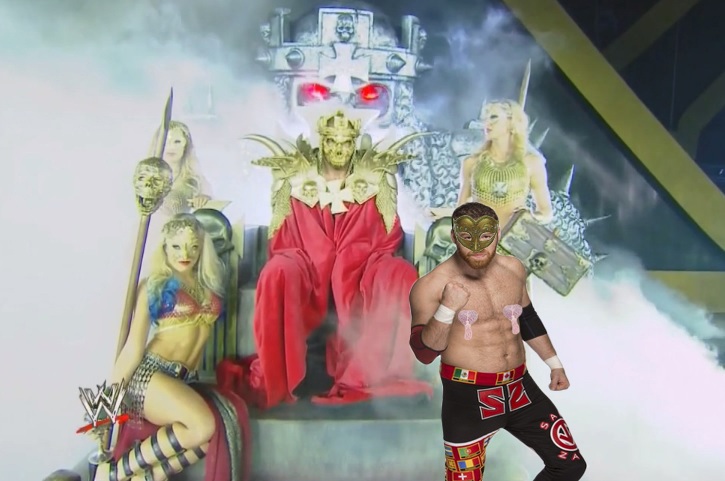 Stamford, CT – After weeks of speculation, WWE officials have announced that NXT favorite Sami Zayn will indeed be a part of this year's Wrestlemania. While many believed that Zayn would be taking on longtime rival Kevin Owens in Dallas, Vince McMahon and Triple H revealed their plans in a closed-door meeting.
"Sami, we absolutely love what you've done down in NXT," said Triple H. "Now, as you know, things are run a little differently up on the main roster. Sometimes a character may work down there that doesn't connect to the larger WWE crowd."
Zayn nodded quietly.
"I admit we were a little gunshy in bringing you up," continued Triple H. "It has nothing to do with your skills as a performer. We just wanted to make sure things were done correctly at Wrestlemania to get the most bang for our buck."
"You're taking too long," said McMahon. "You have to tell them news like yanking off a band-aid."
"You're right, Vince. Sami, we're putting you in the main event of Wrestlemania card. What do you say?" asked Triple H.
Zayn sat in stunned silence for a few seconds. His lifelong dream was now a reality.
"Yes!" shouted Zayn, practically leaping out of his chair.
"That's great, kid," said Triple H. "We've got your outfit all ready. Try it on!"
Triple H then went to his closet and pulled out a skimpy slave outfit and gold mask.
"Wh..what is this?" asked a concerned Zayn.
"You're going to be one of Hunter's wenches during his entrance," said McMahon. "We're revisiting the King of Kings entrance from Wrestlemania 30 and we think you'd be a perfect fit."
Zayn held the gold mask, dance skirt, and nipple pasties in his hands trying to process what was happening.
"Lots of stars get their start as an extra during Wrestlemania entrances," said Triple H. "And don't worry. You won't be the only one out there. You'll be joined by Alexa Bliss, Dana Brooke, and this person."
Ryback burst through the door and gave Zayn a bear hug.
"Hey, little guy!" yelled Ryback. "Looks like you and me are gunna be dancing buddies. Do you know how to do the Macarena?!"
Ryback then proceeded to robotically do the 90's dance moves.
"No, no no!" said McMahon. "I'll show you how it's done. Stand back!"
Triple H smiled broadly as McMahon proceeded to do his dance routine from the 1987 Slammy Awards as Ryback continued to do the Macarena.
Sami Zayn tried in vain not to cry.