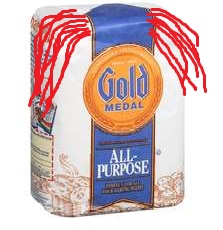 Pittsburgh, PA – In a stunning move harkening back to the cutthroat days of the "Monday Night Wars", TNA's most popular Knockout Sack Of Flour has left the company to join WWE.
The surprise news was first broken by John Pollock on this week's edition of Live Audio Wrestling. "I can't reveal my sources, but I stand by them 100 percent," said Pollock. "It's really a no-brainer for WWE. Sack Of Flour is the most popular wrestler in TNA and will really inject life into the stagnant Divas division."
Vince McMahon was said to be furious at the news leaking early, ruining Sack Of Flour's surprise entrance into the Royal Rumble. McMahon dressed-down several members of the writing team and reportedly dangled The Miz out of a window. The window-dangling incident was apparently unrelated as it is part of McMahon's weekly routine.
While the surprise may have been spoiled, interest in the Royal Rumble is at an all-time high. Betting lines in Las Vegas have swung wildly and WWE officials are expecting a buy rate that may rival Wrestlemania 28. Plans for Sack of Flour beyond Royal Rumble remain sketchy, but it is believed she will challenge AJ Lee for the Divas belt at Wrestlemania. The match will be built upon the real-life feud between the two as Lee's real-life boyfriend, CM Punk, has been seen with Sack Of Flour at a Chicago Blackhawks game.
Sack of Flour's departure leaves a gaping hole in the already-depleted Knockouts division. Sack of Flour leaves behind Gail Kim, Lei'D Tapa, ODB, and Joseph Park's half-eaten Filet-O-Fish sandwich. When asked for comment on letting the contract lapse, TNA President Dixie Carter  inexplicably spun the Wheel of Dixie. When it stopped she said, "It's a Monster's Ball match, ya'll!"