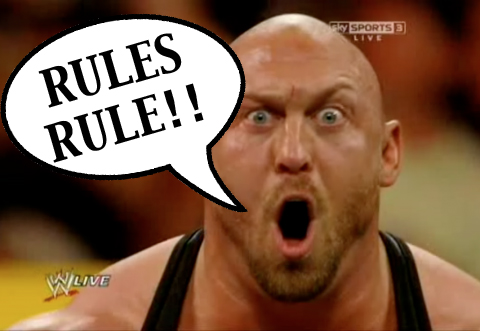 We've been hearing Ryback say it for weeks, but nobody has had the time or determination to hash out exactly what "Ryback Rules" really are. Fear not, for we have compiled the five most important.
1. Ryback is allowed to look like Kermit the Frog (see lack of, neck).
2. Ryback is allowed to skip dentist appointments (and does…alot).
3. Ryback is only allowed to look impressive; he can't actually BE impressive.
4. Ryback is allowed to steal pieces of Goldberg and Ultimate Warrior's gimmicks because Vince says they no longer exist.
5. Ryback has legs the size of people (h/t Josh Matthews).
Bonus "Ryback Rule":
6. Ryback's nipples will not, under any circumstances, stay in his singlet during matches.