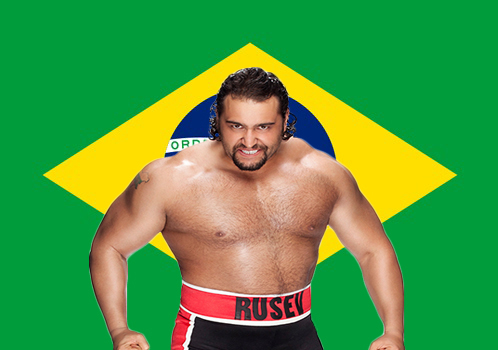 Brasilia, Brazil – In an incredible turn of events that will have repercussions throughout the world, the people of Brazil have chosen WWE Superstar Rusev to replace their current president Dilma Rousseff.
Rousseff's ousting, after once boasting an 80% approval rating, came after impeachment hearings due to economic woes and government corruption. Brazil's future was thrown into uncertainty after the news until Rusev decided to step in.
"I keep hearing "Rousseff do this, Rousseff do that" coming from the television box news strumpets," said Rusev from the Palacio de Planalto. "So I say to Lana, "Let us teach these Brazil nuts what Rusev actually do!"
Rusev's unexpected rise to power came after he and his manager/fiance Lana road through the streets of Sao Paolo on the same tank he used at Wrestlemania 31. Rusev then put several corrupt elected officials The Accolade submission hold until they confessed their crimes. After his actions appeared on international television, Rusev was quickly voted into office after an emergency election was called.
Currently, Rusev's approval rating is at whopping 96% while Lana's is at an unfathomable 154%.
In Rusev's first week in office, Brazil's economy has vastly improved, trade is up, crime is down, and things look to improve further after his first Presidential address.
"I, Rusev, the Bulgarian Brute, am here to fix your puny country," said Brazil in front of a crowd of 100,000 spectators. "I crush crime. I smash poor roads. I put poor education system into submission hold. US Championship now Brazil Championship. Most importantly, I will destroy that Yankee Doodle dork of a dog John Cena!"
Chants of "Rusev!" rang through the Brazilian air at the promise of the new President destroying WWE Superstar John Cena and making him drink the sewage-filled water of the Rio de Janeiro.