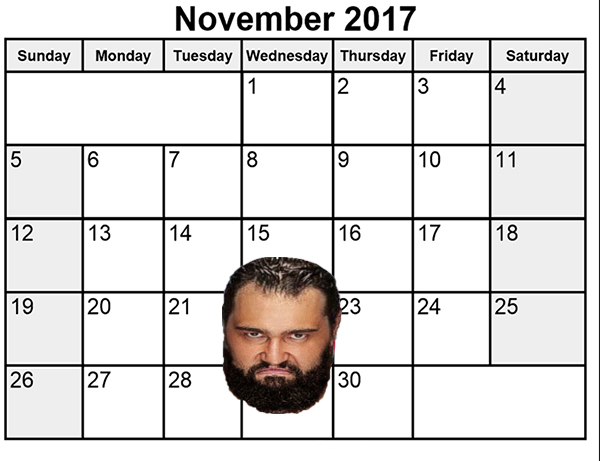 Washington, DC – In a shocking turn of events, Congress has voted unanimously to make Rusev Day a national holiday. Despite ongoing gridlock in the nation's capital, both Republicans and Democrats came together to honor WWE Superstar Rusev.
The bill moved quickly through both the House and the Senate after a massive groundswell of support for the holiday at the state level.
"All I kept hearing from my constituents was 'We want Rusev Day' and 'Make Rusev Day real'," said North Carolina Congresswoman Alma Adams.
"The phones in my office have been ringing off the hook," said Colorado Congressman Mike Coffman. "Our phone inbox is full of some British man just singing 'Rusev Day' over and over. It was actually pretty good!"
"He really was the greatest United State champion of all time. It's the least we could do," said New Jersey Senator Corey Booker.
Rusev Day will be recognized across the country on November 22nd, the anniversary of Rusev's WWE debut. Government offices and schools will be closed to recognize the wrestler. Parades have been scheduled across the country.
Although he is the first professional wrestler to have a national holiday declared in his name, Rusev remained unhappy.
"Every day is Rusev Day!" said a displeased Rusev. "One is not enough! We need 365 days of Rusev! 366 in Leap Year!"
"Ruuuuuuuseeeeeevvvvv Daaaaaayyyyy iiinnnnnn Leeeeeeeeap Yeeeeeeaaaaarrrr!" sang Aiden English.
"And New Day not allowed to celebrate Rusev Day. They must go to work! No day off! No sleeping in!" declared Rusev.
"Favooooorite restaurants clooooossssssed.  Post Office clooooosssseeeed. No fuuuuunnnnnn," sang English and Rusev snapped along to the beat.
"Christmas now Rusevmas! Halloween now Rusevween! Valentine's Day now Everybody Loves Rusev Day!" declared Rusev.
Rusev is now considered the odds-on favorite for the 2020 Presidential election.